Sisters start Alzheimer's Advocacy group for young adults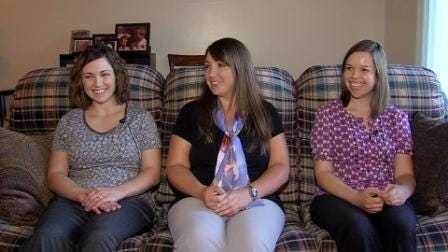 Posted By: Megan Conway
mconway@klkntv.com
"She was very outgoing. She loved to have fun. She was social. She cared deeply about other people," says Sara Roberts, daughter.
Sara, Heather, and McKenzie had to watch helplessly as the crippling disease of Alzheimer's changed and eventually took their mother in September of 2015.
"So she just missed out on her granddaughter by a couple of months," says Heather Stauffer, daughter.
Alzheimer's disease is the sixth leading cause of death in the United States. After their mom was diagnosed, McKenzie moved home to help their dad take care of her.
"We became her caregivers. She always took care of us, but then we had to flip and start taking care of her," says McKenzie Stauffer, daughter.
"Their day doesn't end when the work day does. You're a caregiver all day, and that's a major toll on everything that you do and on your whole family," says Heather.
Not only is it a difficult job, but it's also unpaid. In 2015, caregivers across the country provided an estimated 18.1 billion hours of unpaid care. For advice, their father started going to an Alzheimer's support group. One week, Sara went with him and she noticed she was the only person there her age. That's when the sisters decided to start the "Young Alzheimer's Advocates" group or YAlzA.
"The bigger our numbers, the bigger presence we have and I think the more surprised and the shock factor that the Congressmen get when they see people our age advocating for Alzheimer's and are like 'ok, this is a need,"' says Sara.
It's a support group for young people who have parents or loved ones fighting the disease.
"It felt very lonely because it's not something that you'd expect at this time of your life or the time of life of your parents and just to know that there are other people that are dealing with this," says Heather.
The sisters want other young adults to know, they aren't alone.
if you or someone you know would be interested in their group, here's the link to their Facebook page and website. The "Walk to End Alzheimer's" is this Sunday, September 18th at 1 p.m. at Holmes Lake in Lincoln.