Six Sent To Hospital After Boats Collide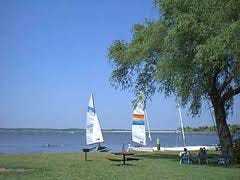 By: Ian Hest
IHest@klkntv.com
Two boats collided out on Branched Oak lake last night, sending half a dozen people to the hospital.
State authorities say a motorboat hit a sailboat, sending 6 people from both boats into the water.
Bystanders pulled each person to safety, before everyone thrown into the water was taken to the hospital.
Shane Cuttlers with Raymond Fire says, "I would say they were very lucky that somebody was here to help them. We've been to numerous calls out here at the lake over the years and they were very lucky that someone was there to help assist them in."
Details of their injuries have not yet been released.