Small Nebraska soccer team scores big-time recognition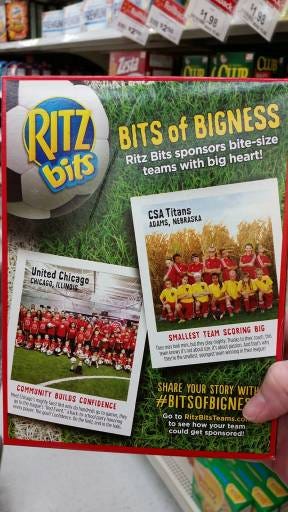 Posted by: Laura Wilson
lwilson@klkntv.com
They're a team made up of 10 and 11 year old players from small towns in the Firth and Hickman areas.
And with some of the players being more than a year younger than they're competition, they're relatively small in size.
But thanks to a recent Nabisco campaign, the CSA Norris Titans have become a pretty big deal.
"All of a sudden, these small town girls are on the back of a cracker box everywhere," said Titans head coach Brad Kester.
"It is motivation for them to keep improving and push themselves," Kester added.
The Titans are one of four soccer teams across the country to "score" a spot on the back of Nabisco's Ritz Bits boxes.
"We were all pretty excited," said Titans player Olivia Kroese. "We were pretty pumped at excited for that."
"We're such a small team, so having a lot of people see it—it's really exciting," said Titans player Gionna Weber.
"Sometimes in tournaments, we joke when we're going to a hotel 'we should be getting nicer rooms because we're famous.' We like to joke around like that," Weber added.
It started last fall, when the team raised $2,000 through Nabisco's sponsorship program, to help pay for soccer gear.
"We got bags, shirts, sweatshirts, and pants—stuff that we wouldn't have had otherwise," Kester said.
The Titans quickly caught the attention of Nabisco ad executives, who were in search of "small, but mighty" teams to display in their upcoming campaign. The team found out they had been selected several months ago.
"It's really been kind of a spark to help us get soccer out there. Out in rural [Nebraska], it's usually football and basketball that come first," said Kester.
And though the Titans are technically in their off-season right now, the girls could not be more motivated to play right now.