Social media trend turns dangerous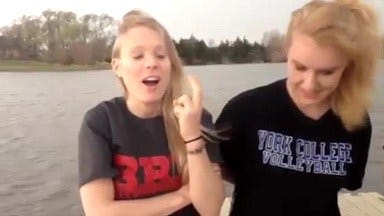 By: Jenn Hatcher
jhatcher@klkntv.com

A social media trend is encouraging folks to jump in lakes, ponds and rivers. But be careful, some area college students learned, during a thunderstorm, it isn't the best idea.

Last week, lighting struck a tree, feet away from Recharge Lake. At the same time, five York College students were nearby, about to complete the Cold Water Challenge. Tabitha Hameister says, "All I could think about was the sound and we could just feel it going through our bodies and it just shook everything." "The noise was so loud, it kind of threw me back," adds Caleb Clark. "I just looked straight out to where the light was coming from and that was over the water," explains Sarah VanDeusen

The Cold Water Challenge is a lot like Plunge for Landon (story here). Friends use social media to dare one another to jump into a cold body of water. Challenges are given a limited time frame. Shelby Jordan says they only had 24 hours, "We're like, we'll do it today, but we didn't realize how bad it was outside." At the time a severe weather watch was in effect. The jumpers say they know, had they jumped in moments before planned, the fun could have turned deadly.

Just the next day, the group went back to Recharge Lake and under much bluer skies, actually took the plunge. "The second time, actually jumping into the cold water was almost more terrifying to us because it was freezing," says VanDeusen.