Some county roads still dangerous after floods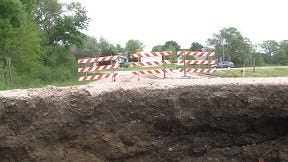 Posted By: Laura Wilson
lwilson@klkntv.com
After the flooding Nebraska saw in early May some county roads are still dangerous in some spots.
More than a thousand areas on county roads were damaged and many are still closed. Choosing to drive on them could have extreme consequences. Not only is it illegal to go around a road barricade, but it's downright dangerous.
The road may look perfectly fine from where you sit in your car, but less than 25 feet and suddenly it's clear why the barricade is in place.
More than a thousand locations on Lancaster county roads are being repaired as a result of May's disastrous flood.
County officials say 28 bridges also sustained heavy damage.
"We estimate that we're going to need to haul 11,000 tons of rocks just to repair the roads from the storm," Pam Dingman, a Lancaster County Engineer, said.
Road crews have been putting up temporary "road closed" signs while they repair areas, though several bridges- like the one here at West 14th street, south of Sprague, has been closed since the flood.
"It's a sinkhole behind them and the holes are much bigger than they look on the surface. In the case of this hole, it's about 15-20 feet deep by our estimates and at least 20 feet wide. This is a hole that could easily lose a car or a person," Dingman said.
And that's what almost happened Monday night to 27-year-old Michael Campbell. Deputies say he tried to drive around the 14th street road barricade on his way home from the bar.
"There was a relatively large hole that he drove over partially before becoming high centered on the roadway. So, it's a good reminder that those barricades are there for a reason," Jeff Bliemeister, a Lancaster County Sheriff, said.
Campbell wasn't injured, but he was cited for several offenses including DUI, careless driving and failure to obey a traffic device. County officials say he's not the only one ignoring these barricades.
"Last week we had a lot of issues with people driving around barricades," Dingman said. "We're really encouraging people to stay out of the barricaded areas. We closed them and barricaded them for a reason. We're trying to get them back up to speed and open as quickly as we can."
A reminder, the bridge on West Pioneers Road, west of 98th street, is also closed
You can be ticketed for trying to drive around a barricade, or worse, injured.