South Haymarket long range planning shows urban living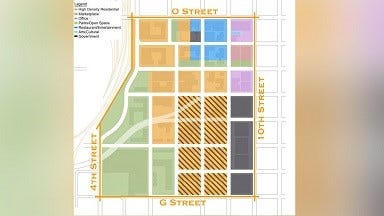 By: Jenn Hatcher
jhatcher@klkntv.com
With not much room left to build in the West Haymarket, planners are starting to look south at the 38 blocks between O Street and G Street and 4th and 10th Street.
The South Haymarket could one day house a couple thousand people.
City Planner Paul Barnes says, "The entire focus of this is looking at more opportunities for urban living and just having that opportunity somewhere in our community, really would offer unique living opportunity, you might not find in a community our size elsewhere."
The groundwork for this future development comes from the 2005 downtown master plan.
This month, planners are presenting a South Haymarket study to elected officials.
The study looks at:
–renovating the K Street complex
–extending M Street west of 7th
–developing bike lanes
–extending the Jamaica North Trail
–developing a marketplace
–parking strategies
–preserving historic buildings
"If we have historic buildings, that would be supported to be maybe a reuse or looking at residential units for historic buildings," say Barnes.
They're in the very preliminary stages of the planning and say the whole project could be completed as far as 25 years from now.
City Council Member Leirion Gaylor Baird says, "Yes, it could take a long time but it's important to have a vision for an area so that the changes can be made step by step."
Most projects would be privately funded.
They hope the draft study process will lead to a timeline for completion.