Special Olympics Unified Relay makes stop in Lincoln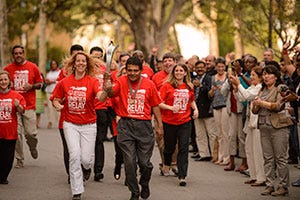 Posted by: KLKN Newsroom
The Special Olympics torch will made its way to the capital city through the Railyard tonight.
The Flame of Hope is making a historical journey across the nation in the first-ever Unified Relay Across America.
The torch was lit in Athens, Greece in May and it's heading to Los Angeles for the Special Olympics World Games in July.
Thousands of participants are either running, walking or biking a segment of the relay.
Its purpose is to increase understanding and acceptance of people with intellectual disabilities.
People were encouraged to come 5:30-5:45 p.m. to the Railyard to welcome the Flame of Hope and take part in the following celebration, which includes a live band.
The World Games opening ceremony will air July 25th on ESPN at 8 p.m.
To learn more about the relay, go here: http://www.unifiedrelay.org/