St. E's goes pink for breast cancer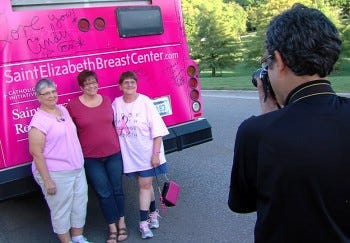 By Vanessa Brown
vbrown@klkntv.com
Breast cancer awareness month kicked off Tuesday night with the "Power of Pink" event at Saint Elizabeth.
It's a color you will see throughout October.. and for good reason. It symbolizes the battle against breast cancer, a disease that touches many across the country and here in Nebraska. Survivor, Kathy Maul knows that first hand.
"There's always somebody worse than you, so don't sit back and feel sorry for yourself. I try to reach out and talk to people who I know have it now," said Maul.
For her family, last December's diagnosis came as a shock.
"We didn't really know anyone who had gone through it, so it just helps her see, helps us see – there are survivors," said Kathy's daughter, Ashley Maul.
This year in Nebraska, it's estimated more than 1,200 women will be diagnosed with breast cancer. That's why events like the one at St. E's are so important.
For two hours Tuesday night, the community was invited out to learn more, to honor survivors and to meet others who know the struggle.
It's a cause close to the heart of St. E's president, Kim Moore.
"I have family members who are survivors of breast cancer and I've lost family members to breast cancer and I really think that there isn't anybody that hasn't been touched by this disease in one way or the other," she said.
Moore wants the public to know that there are services to help, like grant money for free mammograms and a new breast cancer center. At the center that opened in October of last year, those newly diagnosed can meet with a nurse navigator to guide them through what happens next.
Family members, like Ashley Maul, know how challenging the unknown can be.
"It's just chaos. You don't know what to expect," she said.
When asked how it felt to see her mother doing so well nearly one year later – Ashley replied "it's awesome."
And each night in October, as the hospital lights up in pink, she'll be reminded once more how far her they've come.