St. Peter's 10 year wait is over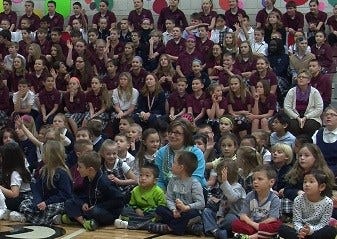 Posted By: Nolan Crane
A world famous children's book author made a special announcement during an assembly at St. Peter's School. It's a surprise the school has waited ten years for. Here's Monday, February 23rds "Excellence in Education" report.
The students learned a valuable lesson of being diligent in your pursuits. For a decade teachers at St. Peter's School have campaigned to have best selling author and illustrator Peter Reynolds attend their school. Students made and sent videos and posters in hopes of getting his attention.
Reynolds books including The Dot, have been translated into several languages and used in thousands of classrooms. On Monday he responded to the students by sending a video with one simple word, yes! The students are still in shock.
"When we made the video I knew he was going to watch it but I wasn't sure he was going to respond," says Lance Bowman.
"I like his books because they're inspirational and they're bright and they're just really cool," says Bernadette Fulton.
"It's pretty exciting because we've been trying to get him for a long time and now he's listening to us and he is going to be coming here," says Noah Wilger.
Reynolds has never visited a school here in Lincoln, but that will all change during the school's Literary Festival in October.