St. Peter's Catholic School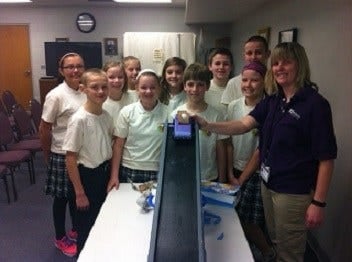 Posted By: Nolan Crane
Students at St. Peter's Catholic School had some guest show up to their classes today. It was a messy hands-on lesson about seatbelt and bike safety. Here's tonight's edition of "Excellence in Education" report.
Employees at Madonna Rehabilitation Hospital used eggs and a ramp to show what happens if people don't wear a seatbelt. In their demonstration the eggs break, but in real life more than 100,000 people die or are severely injured because people are not restrained by seatbelts. When the eggs are secure they stay safe.
"You always want to wear your seatbelt right because if you slouch down around your waist and your seatbelt comes down to your waist then you could seriously hurt your internal organs," says student Luke Blatchford.
"There are seven bones in your neck and the fifth and twelfth vertebrae bones people hurt the most," says student Emily Thavenet.
Each year in the United States hundreds of thousands of people die, even suffer permanent disabilities from accidents such as car accidents and bicycle accidents," says Madonna Counselor Kipp Ransom.
Today was the first time students at St. Peter's participated in this type of demonstration and the students hope it isn't the last.