"Stand for the Silent" events held across the state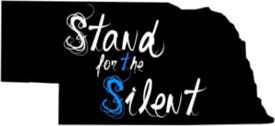 By: Newsroom
8@klkntv.com
The event to raise awareness about bullying was held in schools across Nebraska.
From the anguish following the death of their 11-year-old son,Tyler, Kirk and Laura Smalley founded Stand For The Silent (SFTS) with the sole purpose of preventing any further bullying-induced loss of life. The Smalleys don't ever want another child to feel that hopeless, or another parent to lose a child to bullying.
April 20th was designated as a day for students to pledge against violence. Many students cited the pledge in schools and in events held throughout the state.
The Stand For The Silent (SFTS) program addresses the issues of school bullying and youth suicide with an engaging, factual and emotional methodology. Through the efforts of Ty Smalley's parents, Kirk and Laura and student participants from each school, students are shown first-hand the life and death consequences of bullying.
Developed with the help of OSU-OKC Upward Bound participants, students are presented with testimonies, videos, and real life biographies. Through this unique approach, lives are changed for the better. Students, some for the first time, develop an empathetic awareness through education and understanding.
The goal of the program is to start a SFTS chapter at each participating site. Each chapter consists of a group of students committed to change. These students will no longer stand for 1 in 4 of their peers to suffer at the hands of a bully.
At the end of each event, pledge cards are given to those who agree to stand for the silent. The pledge speaks of respect and love…hope and aspiration. Above all, it illustrates the main lesson taught through the Stand For The Silent program: I AM SOMEBODY.