Star Tran Saturday hours could be cut down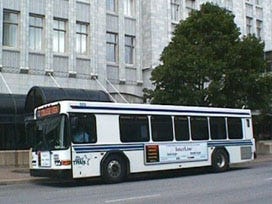 By: Melina Matthes
mmatthes@klkntv.com
Mayor Beutler's proposed budget could reduce bus service, leaving many people without a ride. Star Tran could reduce Saturday service from 12 hours to 8 hours. It may not sound like a big deal, but for some, it could leave them stranded.
Currently Star Tran runs until 6:30 on Saturdays but if the proposed budget is passed it will stop running at 2 O' clock.
"I am disabled and I depend on the buses to get places," Tag Jackson said.
Some people are worried. They use the bus on Saturdays' to get to work and back. But cutting the hours, means they might not be able to get back home. Tag Jackson uses the bus system everyday, to get groceries, to see friends, to go to the mall, and to even get his scooter repaired.
"One of the reasons I moved to Lincoln was because buses go more places," Jackson said.
An advisory board is suggesting to not cut hours, but instead increase the low income monthly fare from $7.50 to $10.00. And have the buses start their routes at more heavily used locations.
"I'm sure they can find some place else to cut the money at but unfortunately around here the bus systems usually the first thing they look at to cut and they don't realize that many people depend on it," Ron Ward of Lincoln said.
To make matters worse for those relying on public transportation, the state recently cut cab vouchers for the low income and disabled, and now they depend solely on the bus system.
"I found that the buses are more reliable because there were times I would call the cab and they'd say a half hour and it'd be an hour and a half…two hours," Jackson said.
Ward and Jackson both ask Mayor Beutler and the city council to reassess cutting the bus service hours and to take into consideration what the advisory board suggested.
There will be a public hearing regarding the Star Tran hours at the city council meeting on Monday, everyone is encouraged to attend.