State Board of Education calls for McPherson to resign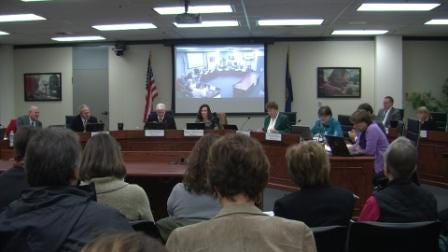 Posted By: KLKN Newsroom
8@klkntv.com
The State Board of Education passed a resolution Wednesday calling for Pat McPherson to resign.
This comes after comments calling President Obama a 'half-breed' were posted to his blog.
"The state board role and responsibility is to encourage and defend fair and unbiased treatment through educational tools we recommend, and teachings we promote," Laurie Larsen of the board said.
Gov. Pete Ricketts and U.S. Sens. Deb Fischer and Ben Sasse among others have previously called for him to resign. McPherson said he did not post the comments. The blog has since been shut down.
McPherson and board member Glen Flint voted against the resolution Wednesday. The vote was 6-2.
McPherson apologized, admitting he had been negligent in policing over posts to his blog. He asked the board for forgiveness, as he said he'd like to continue working for the good of the all children.
"Much of the frenzy around this has been stirred by political interest who opposed me in the general election," he said. "Having not won the election, they've sought to overturn it by their efforts to inflame the issue using the racist appellation."
The meeting was not open to public comment, but the room was filled with both supporters and opponents of McPherson. Patrick Jones, a UNL professor who's launched a campaign against McPherson, said political motives are not the reason he's being asked to step down.
"That argument is simply self–serving," Jones said after the vote. "I think it's a convenient dodge of the real important issues here. So I think that's disappointing."
A group of about a dozen supporters sided with McPherson's argument that he's 'not a racist.' They believe people are jumping on the bandwagon to get him to resign.
"If the voters do not believe that he is representing their best interest, they have an opportunity to let him know directly," Mary Jane Truemper of Omaha said. "They also have the opportunity to un-elect him at the next go round."