State lawmakers end their 2011 session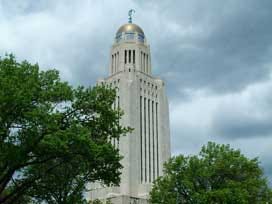 The Legislature have adjourned their session for the year including a new 2-year budget.
The 2011 session ended Thursday with a new two-year budget, an overhaul of the state's collective bargaining process and new congressional and legislative districts. Lawmakers also enacted a roads bill that will funnel roughly $70 million a year in state sales tax revenue into construction and maintenance, starting in 2013.
In a speech to lawmakers, Gov. Dave Heineman highlighted the Legislature's "cooperative, productive relationship'' with him that helped complete the initiatives. Lawmakers finished on Day 87 of the session, ahead of their 90-day schedule.