State leaders react to Hagel nomination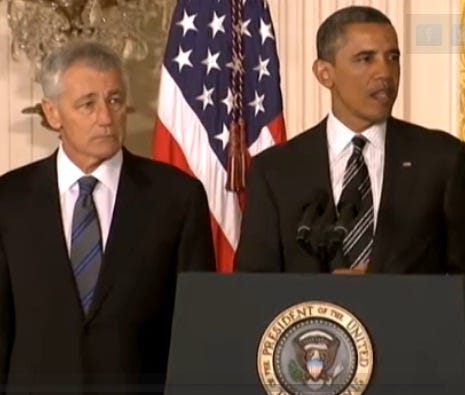 By: Cole Miller
cmiller@klkntv.com
State leaders have plenty to say about the President's announcement today to nominate Chuck Hagel.
With Hagel's future in the hands of the Senate, both Nebraska U.S. senators say they're looking forward to asking him the tough questions.

President Barack Obama has made his choice for Secretary of Defense clear, nominating former Nebraska U.S. Senator Chuck Hagel.

"Mr. President, I am grateful for this opportunity to serve our country again and especially its men and women in uniform and their families," Hagel said.
The announcement was made Monday afternoon. Just hours before it went official, Governor Dave Heineman had this to say.
"He is a veteran of the United States Army. He served in combat," Heineman said. "He knows what it's like to be shot at and I think it's appropriate to have a Secretary of Defense who understands that when you're discussing putting this nation at war and particularly our young people, our sons and daughters in harm's way."
The President hopes the Senate will act quickly in appointing Hagel. U.S. Senator Mike Johanns released the following statement.
"Now that he has been nominated, he has an obligation to elaborate on his past statements and fully explain his positions during what I expect to be a thorough and fair confirmation hearing," Johanns said.
The newcomer, Deb Fischer, said the following.
"As a member of the Senate Armed Services Committee, I will also have the opportunity to publicly question Senator Hagel during his confirmation hearing in the coming weeks," Johanns said. "This process will be thorough and fair, and I look forward to participating in it."