State Patrol Enforcing Click It Or Ticket During Thanksgiving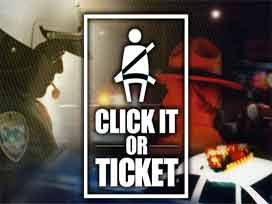 As you know, Thanksgiving is one of the busiest weekends for travel, but if you're driving this holiday, you better wear a seatbelt or you'll get a ticket.
As part of the Nebraska highway safety's "Click It or Ticket" campaign police will be cracking down on drivers again this year.
They're just looking for traffic violations their not stopping specific every 3rd or 4th car because everytime they see a violation they're gonna try to stop them and put special emphasis on the violation of not wearing their seatbelts.
Starting november 24th through the 30th, officers will be out in full force pulling over cars to check if drivers and passengers are buckled up.
The extra safety measures are in large part due to a grant.
27 thousand dollars was awarded to the Nebraska State Partrol thru the Nebraska Office of Safety where we pay officers extra overtime to be out on the roads during the busiest holiday season.
The program "10 minutes to a trooper" will also be utilized.
Troopers will be stationed about every 10 minutes on highway 30 across the state on the busiest days of travel, thursday and sunday.
Drivers who don't wear their seatbelt will get a 25 dollar fine, but that's not the most important reason to buckle up.
You stand a fifty percent chance of surviving an accident and better chance, if you are wearing your seatbelt. It will keep you in your car and you don't have a chance of getting thrown. Your survival rate is so much higher wearing a seatbelt.
Now, the state patrol says it expects heavy traffic because of the holiday and the Nebraska football game so here's a few tips if you're hitting the road.
It's a good idea to check your tires, make sure you have a charged cell phone as well as an emergency kit just in case you hit bad weather or have an accident.