Cleaning up Interstate 80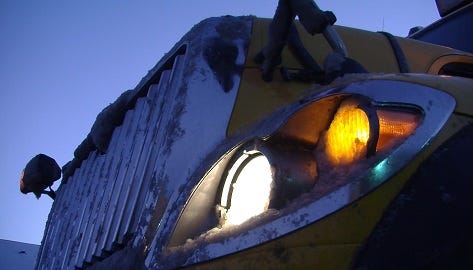 By: Cole Miller
cmiller@klkntv.com
Our first winter storm has come and gone, but not before leaving behind a big mess. The state is hard at work making sure Interstate 80 remains clear for travel.
The snow and ice crunch beneath Lance Simpson's boots. As he fires up his snow plow, he's ready to hit the road. The youngest crew member on the Nebraska Department of Roads, he's been busy cleaning up Interstate 80 after Wednesday's snow storm.
"When we came in, it was pretty windy and blowing pretty hard, so we just try to get out here as soon as we could, clear everything off," Simpson said.
It hasn't been an easy job. Simpson says there was more work for everyone.
"Each guy has to a little bit more," Simpson said. "Its tougher when it's snowing that hard, you can't move very fast and you can't see anything."
Earlier Thursday, drivers were at a stand still on I–80, as it was closed west of Lincoln all the way to Kimball. Those who did get off the road took refuge at a truck stop on West "O". Some of them waiting for 15 hours.
But they can now be rest assured, as all of I–80 across the state is open once again. Simpson says take it slow, and if you don't have to be out at all, he says it's best not to.
"It's a lot better to stay home than risk going out on the roads to get where you have to go," Simpson said.
If you're looking to head east, you should be able to make it to at least Omaha. We're told highways and interstates in Iowa and Missouri are still in the clean–up stages.