State senator discusses immigration, DACA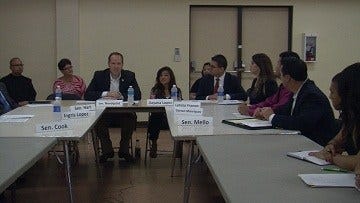 By: Brittany Paris
bparis@klkntv.com
You may have heard of Deferred Action of Childhood Arrival, or DACA.
It's one of President Obama's key immigration policies, passed in 2012.
The program provides temporary work permits, social security numbers and basically allows undocumented children who came to the U.S. illegally to stay.
"It does not lead to permanent residency and is only temporary. It lasts for two years and can be renewed, as long as the program continues," Emiliano Lerda, Justice For Our Neighbors, said.
But DACA might not continue. Congress recently voted to repeal it.
That vote created greater uncertainty for the 2,300 Nebraskans in the programs, said Sen. Jeremy Nordquist.
"I certainly feel that it's time our elected officials quit using immigrant youth as their political punching bag to score political points," he said.
A handful of DACA recipients, also known as "Dreamers," met with Sen. Nordquist on Tuesday to talk about how DACA has affected them.
Some came here as children for better health care.
Ingris Lopez's mother moved her here from Mexico. She's going to be a senior at College of St. Mary's. Lopez said taking DACA away will take away her opportunities.
"I know there's many dreamers like me who are working, but they don't say they are DACA Recipients because it creates a barrier. But for me, DACA is not a barrier. DACA for me is an opportunity," Lopez said.
Some lawmakers think DACA is to blame for the border crisis. But none of the 57,000 unaccompanied minors who have entered the country illegally qualify for the program.
"They've indicated escaping the threat of violence and it isn't about DACA. Most of the families have no idea about the program," Sen. Nordquist said.
He said DACA is just a temporary solution and we need a more permanent one.
"The problem isn't immigration. It's our broken immigration system," he said.
Aside from calling on Congress to pass comprehensive immigration reform, Nordquist said Nebraska is the only state that doesn't allow DACA recipients to have a driver's license.
He will introduce a bill to change that in January during the next Legislative Session.