State senators make progress after lengthy rules debate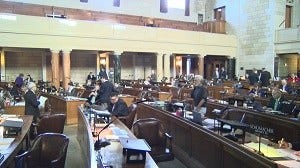 Posted by: Marlenia Thornton
mthornton@klkntv.com
It was a new day in the unicameral Thursday.
State senators got to talk about some bills that have been delayed after a month–long debate regarding rules like filibustering.
Speaker Jim Scheer asked for a cease–fire Wednesday, which extended the temporary rules until the 50th day.
The extension allows the legislature to act under their current ones.
Speaker Scheer hopes it will help the body work together and move forward on business.
"We haven't done nearly enough for the people of Nebraska. Hopefully, today starts a new era in the state legislature," State Senator John Murante of Gretna said.
"I think that will go a long ways in terms bringing us together, making us work together because we're actually starting to move legislation," State Senator Laura Ebke of Crete said.
Some senators think this lengthy debate halted their work.
A motion to reconsider the adoption of the temporary rules by Omaha senator Ernie Chambers, was later withdrawn, but not until after he made a few points.
"You can impede what I'm trying to do. You can hinder what trying to do, but you're not going to silence me," State Senator Ernie Chambers said.
The lawmakers doubled their productivity Thursday morning passing about handful a bills.
The speaker believes they're making progress.
"It took the tension away. It no longer distracted us. We had the opportunity to think about the bill in front us," Speaker of the Legislature Senator Jim Scheer said.
There are more than 100 bills waiting to be debated.