State Senators visit hospital to make a point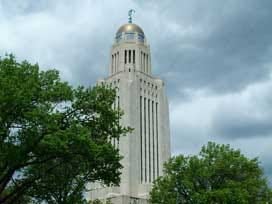 By: Cole Miller
cmiller@klkntv.com
Some state senators visited a hospital today to make a point and it centers around the prenatal care bill which the Governor says he'll veto.
It's a hot topic and the bill passed final reading on Wednesday. With a veto expected, some senators are traveling the state, urging for its support.
Little Sophia, born four months premature at just 17 ounces, is one of the babies in St. Elizabeth's Neonatal Intensive Care Unit. State senators supporting a prenatal care bill took a tour of the area today.
The bill would help mothers ineligible for coverage under Medicaid, get treatment, and that would include illegal immigrants. With Governor Heineman threatening to veto it, they're hoping to spread this message.
"When I sit down and talk to my constituents who are opposed to providing care to illegal immigrants I say, 'So am I, but what about the baby of that illegal immigrant that'll be born a U.S. citizen?'" said Senator Mike Gloor.
Senators say providing care to the unborn child costs much less than after that baby is born, where medical costs can then pile up, costing taxpayers.
"Prenatal care can identify problems early, so the sooner difficulties are found, the sooner they're addressed and the better the outcome for these babies," said Neonatologist, Bobbi Hawk.
Heineman says the funds should instead be used for education. "it is about illegal immigration. It is about fairness. Nebraskans are telling me, 'You know what? I obey the laws and now you want to use my hard earned tax dollars for illegals,'" said Heineman.
But these senators, including Amanda McGill, aren't giving up. "If our bill can help prevent even a few children from being born premature, then it's invaluable," she said.
The bill passed with 31 votes. If the Governor does veto it, senators would need 30 to override it, and those we spoke with today think they'll still have those votes.