State union employees to take furlough days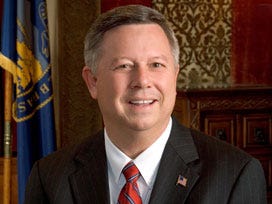 Governor Dave Heineman issued a directive that contract covered employees will take two furlough days between now and the end of the year.
The furlough is expected to save the state $3.5 million. In an e-mail to all state employees, Gov. Heineman said his decision is based on the issue of "fairness and equity." Last month, the union rejected the Governor's request for a pay freeze.
More than 11,000 state employees are represented by unions. Non-contract covered state employees who had their pay frozen as of July 1 will not be furloughed. In May, Gov. Heineman announced a pay freeze for Fiscal Year 2010-2011 for non-contract state employees, which saves the state approximately $5.9 million. Contracted state workers
The text of the e-mail from Gov. Heineman follows:
"As you are aware, the State of Nebraska is facing some difficult financial challenges. By acting early and decisively, we are in a better position than many states to meet these challenges. However, tax receipts for last fiscal year were $76 million less than projected. I am also concerned that receipts for this year may fall short of projections.
"As a result of the downturn in revenue and in order to avert as many layoffs as possible, it is prudent for the State to take additional action now. Wages represent the largest cost for most agencies, and it is necessary to implement employee furloughs as the next appropriate step.
"Earlier this year, I froze the July 1st wage increases for all employees in code and non-code agencies who are not covered by a labor contract. In the spirit of fairness and equity, I am directing that agencies with NAPE/AFSCME and SLEBC Labor Contract covered employees implement two involuntary furlough days by December 31, 2010, for those employees. Agencies will submit furlough plans to the Administrative Services Employee Relations Division for approval.
"If you have questions pertaining to the furlough, please contact your agency's Human Resources Representative."
If you'd like to comment on this story, please do so below.