State Volleyball Tournament To Move To Grand Island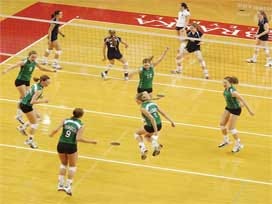 First, the state fair. Now, state volleyball.

The NSAA Board of Control, meeting Friday in Lincoln, awarded the state volleyball tournament to Grand Island for the 2010 and 2011 seasons. The 2009 tournament will end a 29-year run for the state tournament in the capital city.

In Grand Island, the tournament finals will be played at the Heartland Events Center, with other matches to be played at Hastings College and at high school gymnasiums at Hastings High, Grand Island Senior High, Northwest and Central Catholic. Grand Island offered use of its facilities expense-free and will pay the NSAA $12,000 for the two years that the tournament is held there.
Financial incentives were also part of Lincoln's proposal, but at least one Board of Control member indicated that a lack of movement toward construction of an arena to replace the Pershing Center was a factor in the NSAA's decision.
Lincoln mayor Chris Beutler offered his response hours after the decision was made: "This decision should strengthen this community's resolve to make the West Haymarket project a reality."