Storm damage in Wilber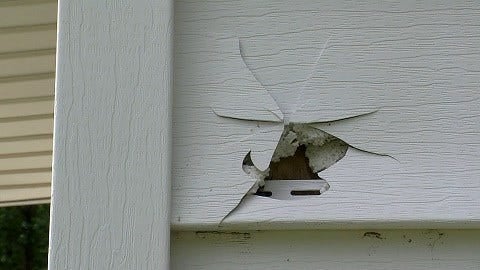 By: Jenn Schanz
jschanz@klkntv.com
Severe weather reared its ugly head in eastern Nebraska Tuesday night. Residents in Wilber say they had up to tennis ball sized hail.
"It took out of my windows, there's glass all over the place. It's probably going to be very expensive to fix," says Mahlon Billings. His truck took a heavy beating, with hail dents all over the hood, and several broken windows.
Wilber was under a severe thunderstorm warning and a tornado watch for most of the night.
There was no tornado, but strong winds and hail did quite a bit of damage.
Jim Slama lives in Crete, but was at his Father–in–law's house in Wilber the night of the storm. Nearly all the windows are shattered, and dents line the side of the home.
Slama says the sound alone was scary.
"Loud wind. Just real heavy wind. And the hail was at least golf ball sized hail."
Slama's Father–in–law was not alone. Nearly every home on the block looks the same. The entire neighborhood is windswept, with tree limbs and leaves covering the street.
Neighbors say most of the damage happened in just a few minutes.
"It was so bad we couldn't even hear in the house over each other talking, we lost our satellite," says Carol Miller of Wilber.
It wasn't just cars and home that took a hit. Residents say several businesses in town have some kind of damage.
Thankfully no one was hurt, but Wilber residents say the clean–up has just begun.