News
Students with perfect scores honored
16 score 36 on ACT, one scores a perfect 1600 on SAT.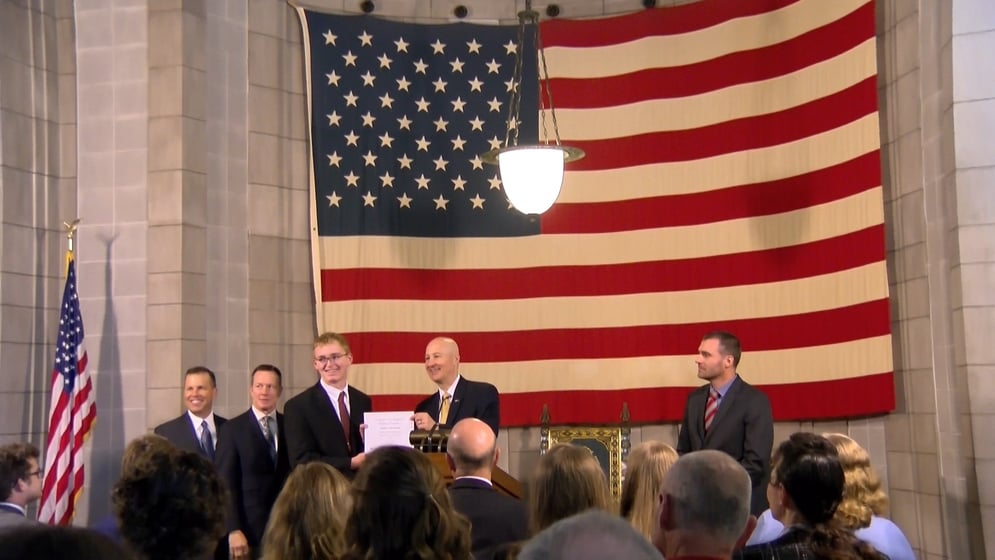 Posted by: Bayley Bischof Channel 8 Eyewitness News
He took the ACT for the first time without studying...Austin Gronewold scored a 35. 
This wasn't good enough, so the Northeast student took a test prep course and did countless practice questions, Gonewold said. 
It paid off when he saw his perfect score of 36, but he said he wasn't surprised by his success. 
Gronewold was one of 17 students honored by the governor on Monday for perfect scores on college entrance exams. 
Five Lincoln students and 11 others from around the state scored that perfect 36 on the ACT, and one student, Justin Xiong earned the top score of 1600 on the SAT. 
ACT representatives said only one in 1000 score a 36 on the ACT. 
Governor Pete Ricketts invited them to the capitol to recognize their achievement. 
"Earning a perfect score on the ACT or SAT does not happen by accident," Ricketts said. "It happens because of a lot of hard work and effort." 
Samantha Seaman, Bellevue East student, took the test four times. Her first time, during her freshman year of high school, she said. 
With each test, she studied for about ten hours. 
After scoring a 35 twice in a row, she knew she could make the perfect score happen, and she did. 
Up next for Seaman is an applied mathematics degree from M.I.T., with a possible double major in theoretical physics. 
Seaman's parents said she's always stood out in the classroom, with her thirst for knowledge and desire to share it with others. 
She's planning on using this passion of hers to continue her education to a masters and doctorate degree, eventually becoming a college professor. 
One important message Nebraska officials shared is how important these student's minds are to Nebraska. 
"You're the next generation of scientists and entrepreneurs and healthcare workers and agriculturalists and teachers so we certainly need your talents and your energy and your passion back in the state," Cory Epler, department of education said. 
Eight of the students will stay in Nebraska to continue their education at the University of Nebraska-Lincoln. 
Keenan Allen, Lincoln East High School, Lincoln - University of Nebraska-Lincoln - Statistics and Actuarial Science
Anthony Benes, Elkhorn High School, Omaha - University of Nebraska-Lincoln - Software Development
Matthew Gromowsky, Skutt Catholic High School, Omaha - University of Nebraska-Lincoln - Chemistry
Austin Gronewold, Lincoln Northeast High School, Lincoln - University of Okahoma - Chemical Bioscience 
Walt Mays, Chadron High School, Chadron
Connor McFayden, Platteview High School, Springfield - University of Nebraska-Lincoln - Environment Studies, Agriculture and Political Science
Joshua Militti, Westside High School, Omaha - University of Minnesota-Twin Cities - Chemical Engineering and Mathematics 
Preston Noll, Westside High School, Omaha - University of Nebraska-Lincoln - Mechanical Engineering and Spanish 
Marta Pulfer, Wayne Jr. Sr. High School, Wayne - Texas A&M University - Biomedical Engineering 
Benjamin Rhodes, Gretna High School, Gretna - University of Nebraska-Lincoln - Political Science, Minors in English/History
Amanda Rowley, Pius X High School, Lincoln - University of Nebraska-Lincoln - Mathematics
Natalie Schieuer, Pius X High School, Lincoln - United States Naval Academy - Chemistry and Spanish
Samantha Seaman, Bellevue East High School, Bellevue - Massachusetts Institute of Technology, M.I.T. - Applied Mathematics
Nathan Stieren, Elkhorn South High School, Omaha 
Daniel Thibodeau, Skutt Catholic High School, Omaha - University of Nebraska-Lincoln - Computer Engineering 
Abram Turner, Lincoln Southeast High School, Lincoln - Massachusetts Institute of Technology, M.I.T. - Mechanical Engineering
Justin Xiong, Millard North High School, Omaha - Washington University-St. Louis - Business Administration