News
Student designed heart at McPhee Elementary
Northstar students create heart for McPhee Elementary School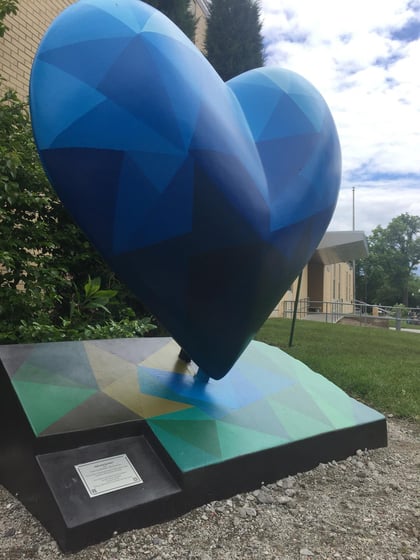 Posted By: Bayley Bischof Channel 8 Eyewitness News 
Northstar High School students put a lot of heart into their most recent art project, that's now on display at McPhee Elementary School.
It's all part of the Nebraska by Heart project, this one is called fragments of life.
Designed and painted entirely by Northstar students, they shared the meaning of the heart and how they created it with students at the heart's new home– McPhee Elementary School.
"Fragments of life to me...Northstar is diverse," senior Laila Hasan said. "They have a lot of different cultures and religions there. I wanted every single shade to represent a different culture, or religion...different experience in life."
It was art teacher Jocelyn Lippen Cott Reiss's idea to take on the project, she said she was approached by the project coordinator, who her sculpture class has worked with before.
While Lippen Cott Reiss made it possible, the students made it happen.
Sophomore Andres novoa helped design it, and proposed the idea to sponsors, he said.
Hasan painted the entire six foot heart, it took four class periods a day, time outside of school and a total 400 hours to get it painted, she said.
Laila and her classmates said it was worth it to see the finished project.
"it's like a sense of pride at what I did, that people get to see the heart," Hasan said.
She's not the only one feeling pride right now, their teacher said she can't describe how proud she is.
"I am so luck to have these students and to get to teach at a school like Northstar that is just filled with incredible young people," Lippen Cott Reiss said.
While she says she's lucky to work with passionate artists like Hasan and Novoa, they believe McPhee Elementary School is the luckiest of all.
As it now calls the heart their own.
Andres says he couldn't be more thankful to have it stay in a school.
"The diversity of a public school is so...not even, it's so broad," Novoa said. "There's so many different types of people that each and everyone one of the shades back behind me right here could represent a different person."
It's one of 83 hearts around Lincoln, all meant to help celebrate Nebraska's 150th birthday.