News
Ceremony honors veterans of Operation Desert Storm
On January 16th, 1991, members of the Nebraska National Guard's 24th Medical Company was deployed to the Persian Gulf.
Tuesday, January 16th 2018, 5:32 PM CST
by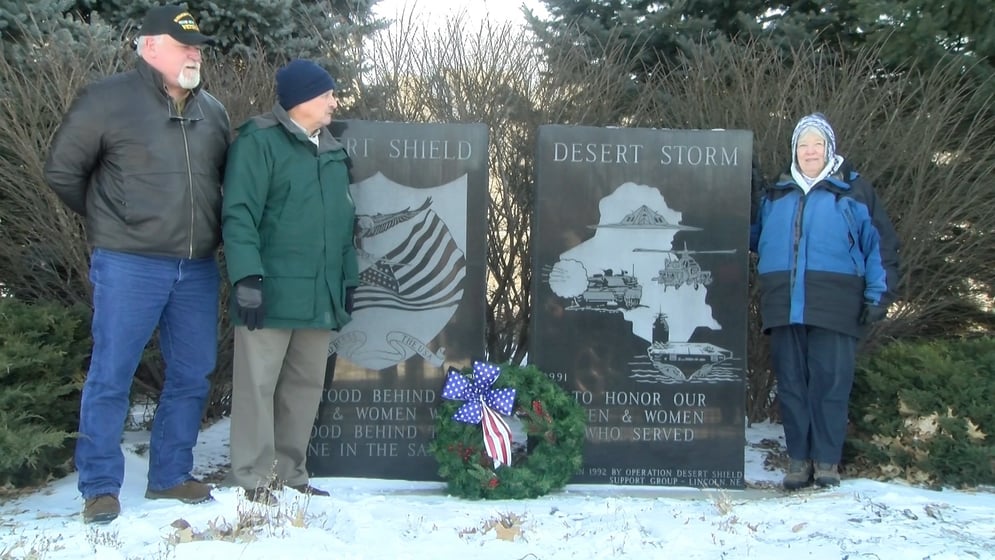 On January 16th, 1991, members of the Nebraska National Guard's 24th Medical Company was deployed to the Persian Gulf.
It was the first combat deployment of a Nebraska guard unit since World War II.
The operation would launch hundreds of soldiers on a life–changing journey to the front lines of the Gulf War.
On short notice, these citizen–soldiers put work, school and family life on hold.

"I had a house and I had a cat. I had responsibilities. Who is going to pay the bills while I'm gone, who's going to take care of the house and the cat. Just get all my affairs in order plus pack," said Linda Plock, a veteran of the 24th Medical Company. 

"I had to leave my job, wife and three children that were anywhere from elementary school to a senior in high school," said Tom McBride, a veteran of the 1267th Medical Company.

Saddam Hussein's Iraqi army invaded Kuwait in August of 1990, President George H.W. Bush began building a military force to take back the oil–rich kingdom and to protect its neighbor, Saudi Arabia.
The 24th Medical Company was a highly experienced unit. Many of its pilots had racked up combat hours in Vietnam.

"I remember one of the things is I was a Vietnam veteran and some of the younger guys asked what do we expect and I said I don't know, I was on the ground in a jungle environment in Vietnam and now were going to be flying over a desert so i don't have any clue," said McBride.

The unit's helicopters flew 122 missions during their three months of deployment.
Many of the combat casualties more often were Iraqi soldiers, or civilians.
Tom McBride remembers some casualties before his unit even made it overseas.

"On the way down there late in the day we had one aircraft that ran into inclement weather and Lieutenant Rose was killed in that crash," said McBride.

Today on the 27th anniversary of Operation Desert Storm, a remembrance ceremony took place in Wyuka Cemetery. Veterans who came laid a wreath on the desert shield.
Those who came honored the lives of those who were lost in the war, including fellow operation shield members such as Lieutenant Pete Rose who gave his life for the cause.

The veterans of Operation Desert Storm still make a point to get together once a year. A lot of memories and friends were made through this life changing experience.