News
Therapy dogs deliver Valentine's Day balloons
Eight therapy dogs and their handlers came to greet patients in every part of the facility.
Saturday, February 10th 2018, 3:38 PM CST
by
Updated:
Friday, February 16th 2018, 12:13 PM CST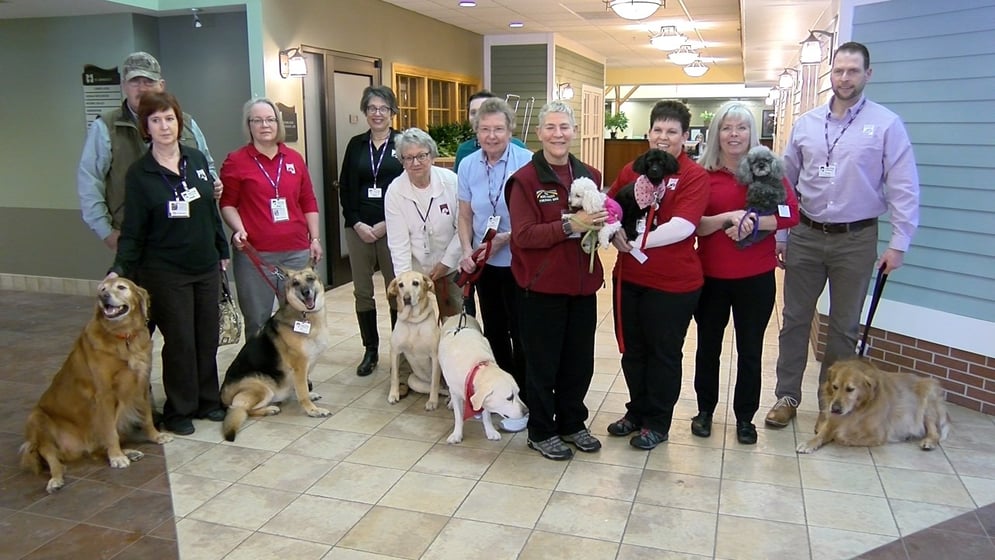 Patients at Madonna Rehabilitation Hospital in Lincoln were treated to some puppy love Saturday morning.
        Eight therapy dogs and their handlers came to greet patients in every part of the facility.
        John Mattheis' daughter Tia has been in Madonna since November, he says the dogs are a welcome distraction.
        "Tia had a treatment going on while the angel dogs were here and it was just a nice little distraction for her kept her mind off her actual treatment so I thought that was great," Mattheis said.
        Jennifer Frain and Daveen Renner have been volunteering with their dogs at Madonna for years.
        Today they, along with the other handlers, were there delivering Valentine's Day balloons to patients and families.
        Their weekly visits are something both women look forward to as they get to watch patients progress and get stronger.

        "You get to see them progress from week to week we typically come on Saturdays so we get to see them as they progress. Sometimes they come in and can hardly hold their head up and week after week you can see the improvement that they've made," Frain said.
        Patients at Madonna are typically there for more than six weeks.
        Many who come to the facility are from out of town or even out of state. They have to leave their pets behind when they come, so having dogs visit is a special treat.
        "They like to see the animals, kinds of reminds them of home if they can't have their pets come her," said Frain.
        For parents like John the dogs visiting gives his daughter something to be excited about and the valentine's day balloon was just an added bonus.
        "I think it's a healthy distraction for the kids giving them something else to focus on. It's been a real pleasure to have them come and I know my daughter looks forward to seeing them every week."
        The dogs who came today visit patients at Madonna every week.
        Madonna is looking for more dogs to be apart of their therapy program.
        If you're interested you can find out more about their program here.