News
Middle School holds 'Robot Extravaganza' event
Moore Middle School's Robotics Club put on a show at the school's first 'Robot Extravaganza.'
Friday, May 11th 2018, 9:49 PM CDT
by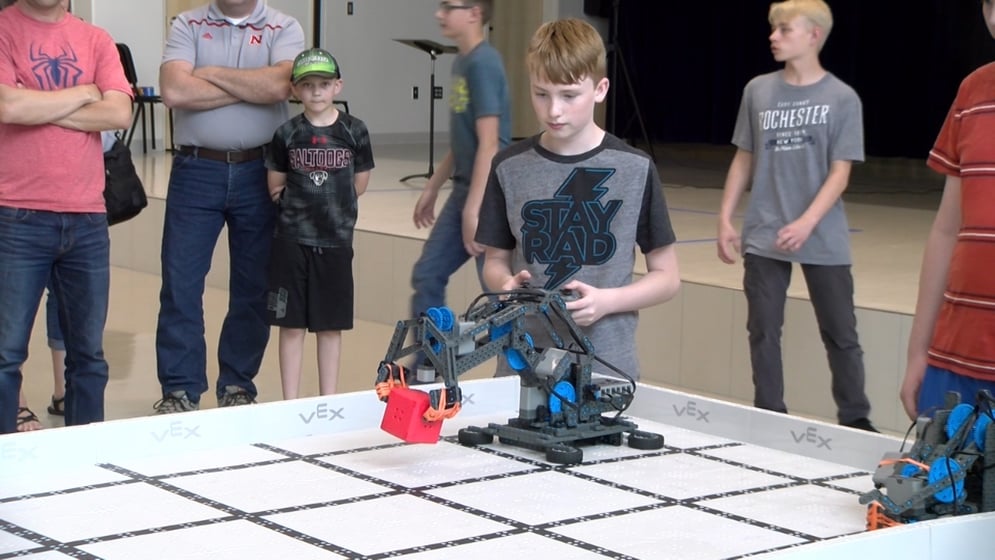 Moore Middle School's Robotics Club put on a show at the school's first 'Robot Extravaganza.'

For 30 students at Moore middle school, nothing satisfies the urge to build, drive, program, and problem–solve quite like robotics club.
The after school program meets every Friday for an hour.
Over the course of the school year, their robots have come to life.

"Usually a good competing bot takes a couple months and to actually program one it probably takes about 4 to 5 months," said Robotics Club instructor Rich Powers.
Club member Eddie Odom is a 7th grader who says he's always had a passion for making things.
When he heard the school was adding a robotics club, he knew he wanted to join.
His robot has a unique name as well.

"It's called Captain America because of its shield."
Sandy Matejka has always been very interested in technology. She knew robotics club was right for her but needed a bit of coaxing to jump in.

"I really was kind of hesitant about it but then I saw my friend Lexi go in and she was really the first girl who went in there. It's like really fun, even though there is a lot more of the guys it is still really fun," said Matejka.
Robots are for everyone! Club instructor Rich Powers says he is always on the look out for more diversity!
"We'd love more girls. We have about five girls that come on a regular basis and 20 boys so we'd like a bigger ratio," said Powers.
The robot extravaganza featured ring bots, block bots and battle bots, a favorite among the kids.
"My hope is eventually we can turn this into a city wide event. Call it a robot fair where we invite schools here. And more about fun not about competition, to show all their work off to everyone," said Powers.

Lincoln public schools provided the funds to introduce the robotics club starting this school year.
Look for more schools to get involved in the future.