Sport
Husker basketball tops Northwestern for second straight win
Nebraska men's basketball beats Northwestern 59-50 for the Husker's second straight win.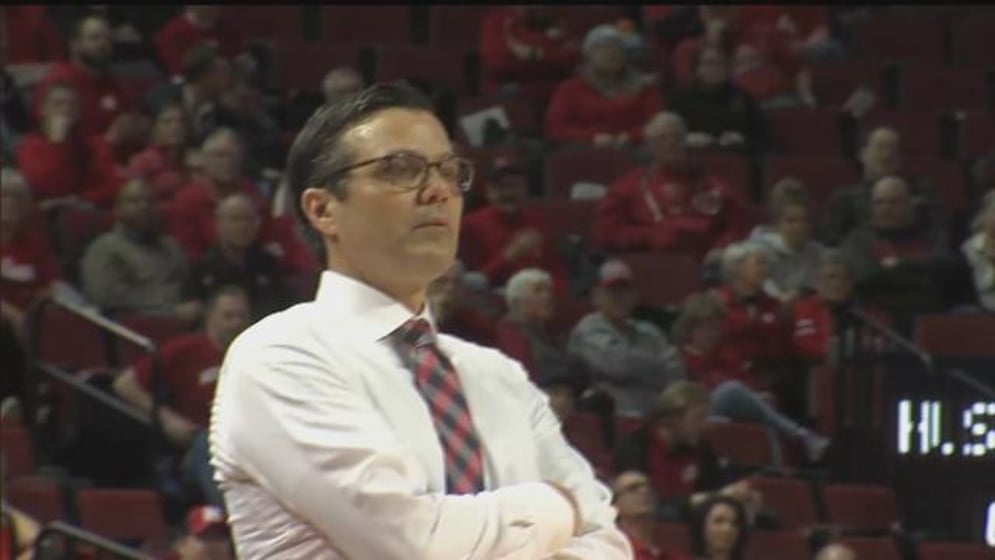 Nebraska men's basketball beats Northwestern 59-50 for the Husker's second straight win.
Courtesy: UNL Media Relations
*-Nebraska improved to 51-5 under Tim Miles when holding opponents under 60 points, including 17-0 the past three seasons.
*- Nebraska held Northwestern to their second-lowest scoring output of the season with 50 points. 
*- Isaiah Roby notched his third double-double of the season and seventh of his career with 19 points and 16 rebounds. His 16 rebounds was a career-high. Roby also tied his season-high for blocks with five. The last Husker with at least 19 points and 16 rebounds in a game was Aleks Maric against Missouri on Feb. 13, 2008 (32 points, 16 rebounds).
*- Roby also tied his career-high for made three-pointers in a game with three.
*- James Palmer Jr. scored 13 points and now has 1,058 points, one point shy of Herschell Turner for (1,059) for 29th on NU's scoring list.
*- Palmer has reached double figures in 22 consecutive games dating back to Nov. 20 and 25 of 26 games this season.
*-Palmer's six assists were his second-highest total of the season.
*- With his seven made free throws tonight, Palmer now has 156 made free throws this season. He is two behind Dave Hoppen (`158, 1984) for fifth place.
*- Nebraska only committed eight turnovers tonight. The Huskers have now accumulated 10 or less turnovers in five of the last six games.
*- With the victory tonight, Nebraska is 9-6 against Northwestern all-time and the Huskers are now 6-5 against the Wildcats since joining the Big Ten.
*- The seven blocked shots by Nebraska was only one rejection away from tying the season-high as a team.
*- The nine fouls committed by Nebraska tonight tied the fewest amount of fouls committed since the Huskers had nine against Western Illinois (Nov. 24).
*- Nebraska is now 13-7 this season when having at least three players in double figures. Isaiah Roby scored 19, James Palmer Jr. netted 13 and Glynn Watson Jr. chipped in 12 points.
Nebraska Head Coach Tim Miles
Opening Statement
"It is always a great weekend when you're able to bring your alumni back, your former players and your legends. It was a bigger year this year than it had been in the previous few years, and I really enjoy having these guys back. It is great for them to connect with our team and our fans, and I am just really happy. I hope all the former players feel welcome to come back and be a part of our program so we can embrace them and recognize them. It is always cool having the legends back."
On Isaiah Roby 
"He had those two blocks early and It kind of sent a message. Then he went away for a while from that rim protection type of thing, but boy he ended the game with a flourish. Just look at his line, 19 points. Seems like it wouldn't have been hard to have more than that with some open misses. He has 16 rebounds, including five offensive (boards). Then you go through and he has five blocks, two assists, two steals, and no fouls. We have an IER chart, individual efficiency, and his numbers will be just through the roof."

On winning with the defense
"If we don't, we won't win. I thought we were really good defensively tonight. I thought we had a very solid defensive effort. And when I say "solid" that is not a dismissive 'oh we were solid.' It was like 'we were rock solid.'" 
Junior Isaiah Roby
On what was working so well for himself on offense and defense tonight
"I would say I got challenged by my teammates a lot just to be more aggressive on both ends that was the biggest thing for me"
On if he was surprised on having so many looks and being aggressive
"That was the game plan for most of our team to be honest. They were packing the paint a lot so driving lanes weren't there so it was just an adjustment we had to make"
Senior Tanner Borchardt
On trying to limit Dereck Pardon
"The coaches put together a great game plan when we are doubling and when we are not playing 1 on 1. We tried to take away his left hand, as he is pretty dominant when he gets to his right shoulder. He has averaged a huge number against us I think it is like 19 and 14 and we were able to hold him to like 12 and 13 I think so we did a good job on him"
On if he thinks the team is feeling better now after a couple of wins
"Yeah you can definitely see the morale starting to rise a little bit. It is a fun environment to be in obviously when you are winning and no one wants to be in that losing streak, but it felt great to get that monkey off the back. I think our guys are playing more freely now even in practice you can see we are enjoying ourselves more."
Northwestern Head Coach Chris Collins
Opening Statement 
"Congratulations to Nebraska. I thought both teams played incredibly hard tonight. I thought it was just one of those Big Ten, grind-it-our type of games with both teams really digging in on the defensive side of the floor. It was hard for both teams to kind of get a rhythm. We just had that little stretch, and they went to their zone, which they do and you prepare for it. You get in the game and you have to make plays, and I thought we had some real critical live-ball turnovers during that stretch that gave them separation. I'm looking at the stat sheet here and for us to hold them to 59 points, but you see 16 off of live-ball turnovers. In a 50-point game, those are crushers. I love my guys' effort, and we're having a hard time scoring. It's kind of been this script with us for most of the year and teams are good defensively. We have to just stick with it. But, I was not pleased, I mean I wanted to win the game but I thought Nebraska played very well and very hard and certainly they deserve to win."
On Isaiah Roby and Northwestern's Defensive Effort
"I mean (Isaiah Roby) took 19 shots to get 19 points. He made shots and he played well. He's 7 for 19, if you play against a good player and your point to shot ratio is 1-to-1, I feel like you've done a pretty good job to hold him for 7-for-19. (James) Palmer Jr., three-for-17 and Glynn (Watson Jr.), all three of those guys are under 50 percent from the floor. Overall, somebody has got to score. Isaiah is a terrific player, but if you would have told me he was going to get 19 on 19 shots, and we we're going to hold (Nebraska) to under 60. It wasn't our defense. Our defense wasn't the reason we lost. The reason we lost was we really struggled to score the ball and that little stretch of turnovers against the zone was really a killer for us."