News
Air boats capsize during rescue mission in Fremont
All seven rescuers went into the flood waters, and are being treated for hypothermia.
Updated:
Friday, March 15th 2019, 7:38 AM CDT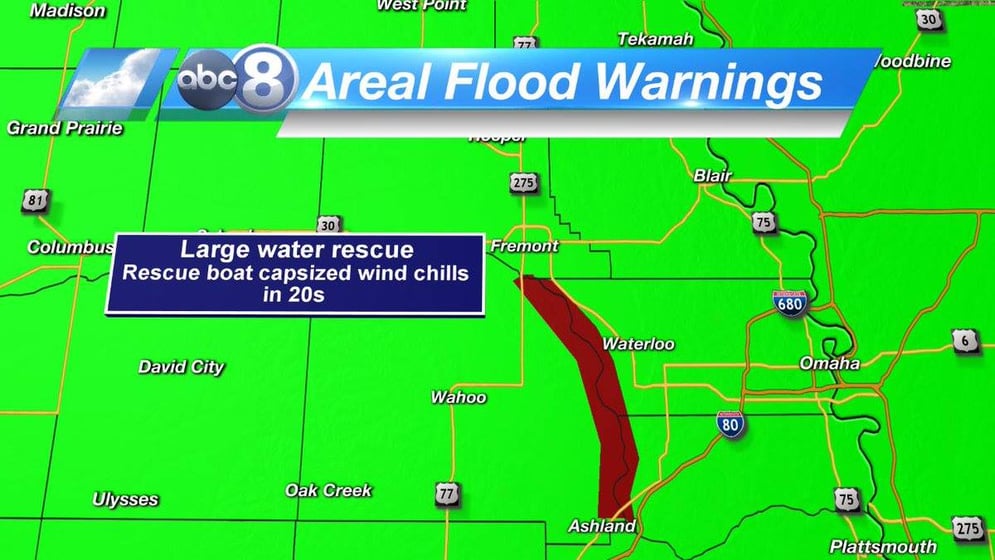 A rescue boat carrying seven first responders capsized during a rescue mission in Fremont.
Just before 7 p.m. Thursday, a family located approximately four miles east of Fremont, along the Elkhorn River, called 911  saying their home was surrounded by water and the basement walls were beginning to collapse.
Fremont Rural Fire Department and Fremont Fire Department were called to begin rescue efforts.
Two airboats were launched two miles away from the home, and were manned by three firemen from Fremont Fire, one fireman from Fremont Rural, one fireman from Cedar Bluffs Fire Department, and two airboat operators.
Shortly after 9 p.m., before reaching the home of those trapped, both airboats capsized, sending all seven rescuers into flood waters.
Two National Guard helicopters were provided from the State Emergency Operations Center in Lincoln, and rescued those in the water at 10 p.m.
All seven were taken to Methodist Fremont Health for treatment of hypothermia.
A helicopter then went to the residence who initially called for help, but they refused the rescue.