Sport
Palmer, Watson to play in all-star events at Final Four
James Palmer Jr. will play in the Reeses All-Star game Friday, while Glynn Watson will be apart of the Big Ten team in a 3-on-3 tournament.
Wednesday, April 3rd 2019, 4:18 PM CDT
by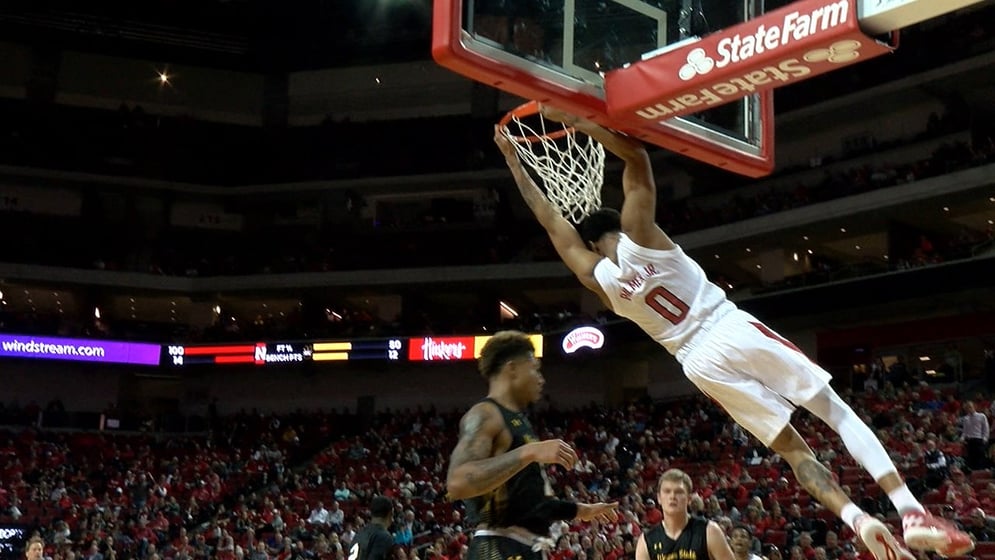 Courtesy: UNL Media Relations
James Palmer Jr. Selected for College All-Star Game
University of Nebraska guard James Palmer Jr. will play one final college game, as the senior was selected for the 2019 Reese's College All-Star Game.
The Reese's College All-Star Game takes place this Friday, April 5, at US Bank Stadium in Minneapolis as part of Final Four Friday.
Tipoff time is 3:30 p.m. (central) and the game will be broadcast live on CBS Sports Network.
Palmer is the fifth Husker player to earn the honor and the first since Aleks Maric in 2008. The others who have played in the event include Chuck Jura (1972), Rich King (1991) and Eric Piatkowski (1994).
Palmer finished his senior year setting school records in points (708), free throws attempted (282), free throws made (215) and minutes played (1,269).
On the year, he averaged 19.7 points, 4.2 rebounds and 3.0 assists and 1.4 steals per game, ranking third in the Big Ten in scoring and fourth in steals. A third-team All-Big Ten selection and a first-team All-District pick by the USBWA, Palmer had 18 20-point games as a senior, including a 34-point effort against Rutgers in the Big Ten Tournament. He is also one of just five Big Ten players in the last 50 years to have 200 field goals and 200 free throws in a season.
In his two-year career at Nebraska, Palmer finished with the second-highest career scoring average in Husker history (18.5 points per game) as he started all 69 games in that span.
REESE'S® Division I East All-Stars
Name, Position, Ht., Wt., College                           
Vasa Pusica, G, 6-5, 210 , Northeastern         
Matt Morgan, G, 6-2, 180, Cornell
B.J. Stith, Guard, 6-5, 205, Old Dominion                    
John Konchar, Guard, 6-5, 210 , Fort Wayne
James Palmer, Jr., Guard, 6-6, 210, Nebraska
Jarrell Brantley, Forward , 6-7, 255, College of Charleston                  
Jessie Govan, Center, 6-10, 255, Georgetown
Ahmad Caver, Guard, 6-2, 175, Old Dominion
Cameron Jackson, Forward, 6-8, 250, Wofford
Devontae Cacok, Forward, 6-7, 240, UNC Wilmington
Head Coach: Nate Robinson
REESE'S® Division I West All-Stars
Name, Position, Ht., Wt., College           
Chris Clemons, Guard , 5-9, 180 , Campbell
Corey Davis, Jr., Guard, 6-1, 190, Houston
Galen Robinson, Jr. , Guard, 6-1, 190, Houston
Nick Perkins, Center, 6-8, 225, Buffalo
Drew McDonald, Forward, 6-8, 250 , Northern Kentucky
Josh Sharma, Center, 7-0, 230, Stanford
Jordan Murphy, Forward, 6-6, 250, Minnesota
Cameron Young, Guard , 6-6, 205, Quinnipiac
Barry Brown, Guard, 6-3, 195 , Kansas State
Shizz Alston, Jr., Guard , 6-4, 180, Temple      
Glynn Watson Jr. Selected to 3x3 Event at Final Four Weekend
Nebraska's Glynn Watson Jr. has selected to participate in the 2019 Dos Equis 3X3U National Championship, scheduled for April 5-7 at Minnesota's Mall of America. Watson is one of four players selected from the Big Ten Conference.
The tournament is comprised of all-star teams of seniors, who have exhausted their collegiate eligibility, representing all 32 Division I conferences. The teams will compete for a $150,000 prize pool, with the champions taking home $100,000, double the prize money from a year ago. Additionally, the winners will earn the right to compete in the 2019 USA Basketball 3x3 Open National Championship later this spring.
Watson will team with Ethan Happ (Wisconsin), Juwan Morgan (Indiana) and Jordan Murphy (Minnesota) on the Big Ten squad.
Watson was a four-year starter for the Huskers, as he totaled 1,532 career points to finish 11th on Nebraska's all-time list and finished among the program's all-time leaders in steals (177, fourth), assists (382, seventh), 3-pointers (184, fourth), games played (134, first) and starts (113, second). As a senior, he started all 36 games in helping Nebraska reach the NIT for the second straight season, averaging a career-high 13.6 points per game along with 4.1 rebounds and 3.1 assists per game.
He tallied five 20-point games and was playing some of his best basketball down the stretch. In NU's final nine games, he averaged 18.9 points, 4.4 rebounds and 3.3 assists per game while posting nearly a 3-to-1 assist-to-turnover ratio.
All games of the Dos Equis 3X3U National Championship will be carried live on Twitter or ESPN2. Pool play will begin at 2 p.m. CT on April 5, with 24 games streamed live exclusively on Twitter. Pool play will continue on April 6 at 8:30 a.m. CT with 24 more games streamed live exclusively on Twitter. Round of 16 and quarterfinal games will be streamed live exclusively on Twitter at 9:30 a.m. CT on April 7, with semifinal, consolation and championship games televised live on ESPN2 later that day at 2 p.m. CT. Returning to call all the action throughout the tournament will be the voice of FIBA 3x3 basketball, Kyle Montgomery, with Robbie Hummel of ESPN and Tate Frazier and Mark Titus of The Ringer's One Shining Podcast providing color commentary and sideline coverage. 
Teams have been assigned into eight pools of four and each team will be guaranteed three pool play games, earning $1,000 for every victory on Friday and Saturday. The top two teams in each pool will move on to Sunday's knockout stage, where the stakes skyrocket. The championship team will take home $100,000, while the runners-up will share $2,000 and the third-place team will win an additional $1,000. 
Big Ten Team Schedule
Friday, April 5
8:30 p.m.               vs. Ivy Group

Saturday, April 6
11:50 a.m.             vs. Horizon League
3 p.m.                     vs. Big Sky