News
Citizen group hopes to solve property tax dilemma with a constitutional amendment
A group called TRUE Nebraskans believes a state constitutional amendment will solve Nebraska's property tax saga once and for all and has developed their tax plan.
Updated:
Wednesday, May 8th 2019, 6:14 PM CDT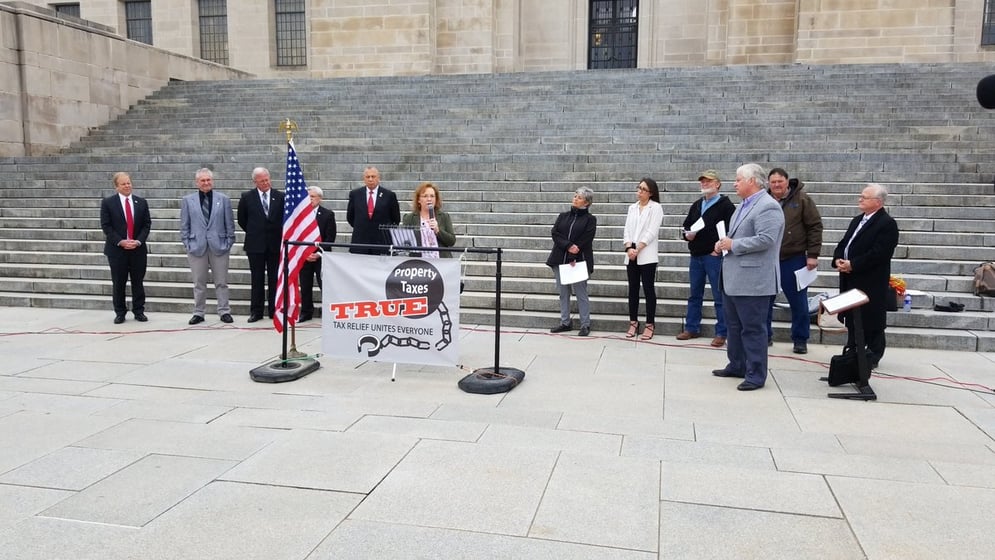 Property taxes were the topic of the day at the capitol, for both legislators and citizens. Several land and homeowners spoke at a capitol rally Wednesday to voice their frustration over property taxes.
They're part of a group called TRUE Nebraskans. They didn't mince words, directly calling out state senators for failing to get anything done.
"They have tried for decades to provide what we would call meaningful property tax relief, but the bulk of the money that is supposed to be going to property tax relief actually goes to the taxers. Less than five per cent actually goes to the tax payers," said Edward Truemper of TRUE Nebraskans.
The group kicked off their 2020 ballot initiative with the goal of adding a constitutional amendment to the state's constitution solving the property tax issue once and for all.
"We're doing this not because we are angry at them. We're giving them an opportunity to be successful. We started this out beginning with the end in mind, which was how much property tax relief the average tax payer needs in order to feel that they've been validated related to getting properly tax relief," Truemper said.
Their proposal states Nebraskans will pay property taxes as normal, but also receive a 35 percent rebate credit to their state income tax.
Truemper says residents feel their words are falling on deaf ears.
"Decided angry about their properly taxes, frustrated with the legislature, frustrated with local government. They don't feel that they're being heard."
Late Tuesday, the state revenue committee advanced a package that would lower property taxes, boost state aid for k thru 12 schools, but also raise sales taxes. Senators hope to have success with this deal, and agree that they have failed Nebraskans for decades.
"Going to the citizens with this is a great approach. Again, in the body here, in the legislature, we've failed to get anything done," Senator Tom Briese of Albion said. Briese is also on the state revenue committee. "We hope this year to get something done, but because of our past failures I think it's incumbent that the citizens do take this upon themselves to help force the issue."
Although many supporters of the initiative are angry about the current property tax situation, Truemper says TRUE Nebraska doesn't want to feed off of the anger.
"We don't want to take the approach of being angry. We don't want to be vindictive. What we are trying to do is spin a positive on this and give our capital building, our executive and legislative branches an opportunity to really shine."
He also expressed confidence that if the initiative is successful and a state constitutional amendment is passed, the current legislative body, in conjunction with the governor, will be able to put the property tax dilemma to rest.
TRUE Nebraskans needs a minimum of 125,000 signatures to get the initiative on the 2020 ballot. They would not say how many signatures they currently have, but are confident they'll exceed the minimum requirement by next summer.
For more information on TRUE Nebraskans and their proposal, you can visit their website at truenebraskans.com.