News
Best of the Class 2019
The top high school students in Southeast Nebraska gathered for a program to honor their scholastic accomplishments.
With caps and gowns in hand, some of the top high school students in the area posed for pictures with their peers and shared a luncheon specifically held in their honor. The area's top students representing their high schools were honored at the 16th Annual Best of the Class held at The Lied Center for Performing Arts in Lincoln, on Friday, May 10.
In the morning, students interacted with other students as Channel 8 KLKN-TV camera crews recorded them to be incorporated into Best of the Class commercial announcements, which will air on Channel 8 KLKN-TV.  Students posed for a group picture before being treated to a short program and a luncheon catered by Jimmy John's.  The luncheon program was hosted by Channel 8 Eyewitness News anchors Rod Fowler and Nicole Cousins.  The featured speaker was Cliff Carlson from HUDL.
The Lied Center for Performing Arts, ALLO, NECA/IBEW, Pepsi, Party America and Graham Tire sponsored the event along with Channel 8 KL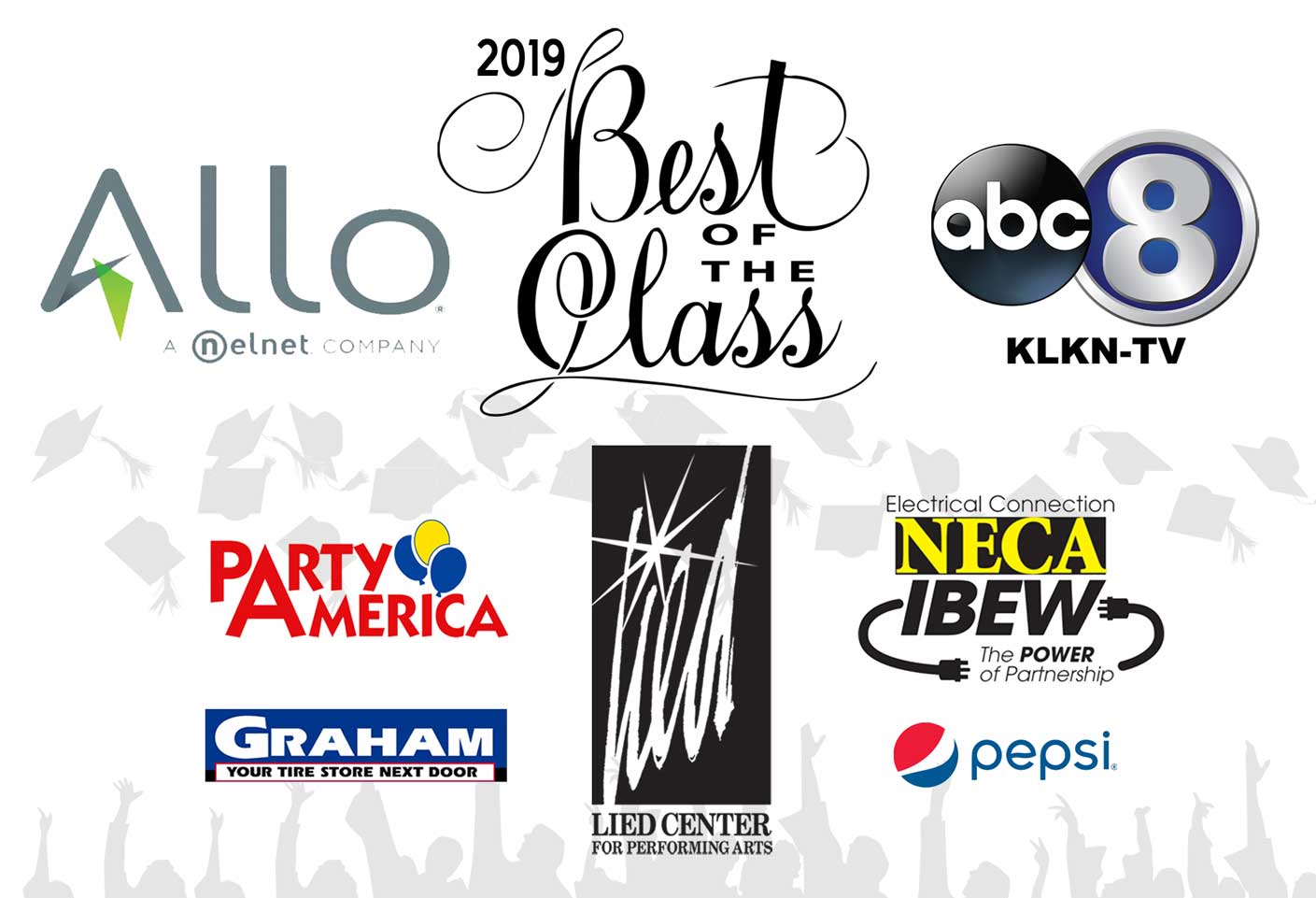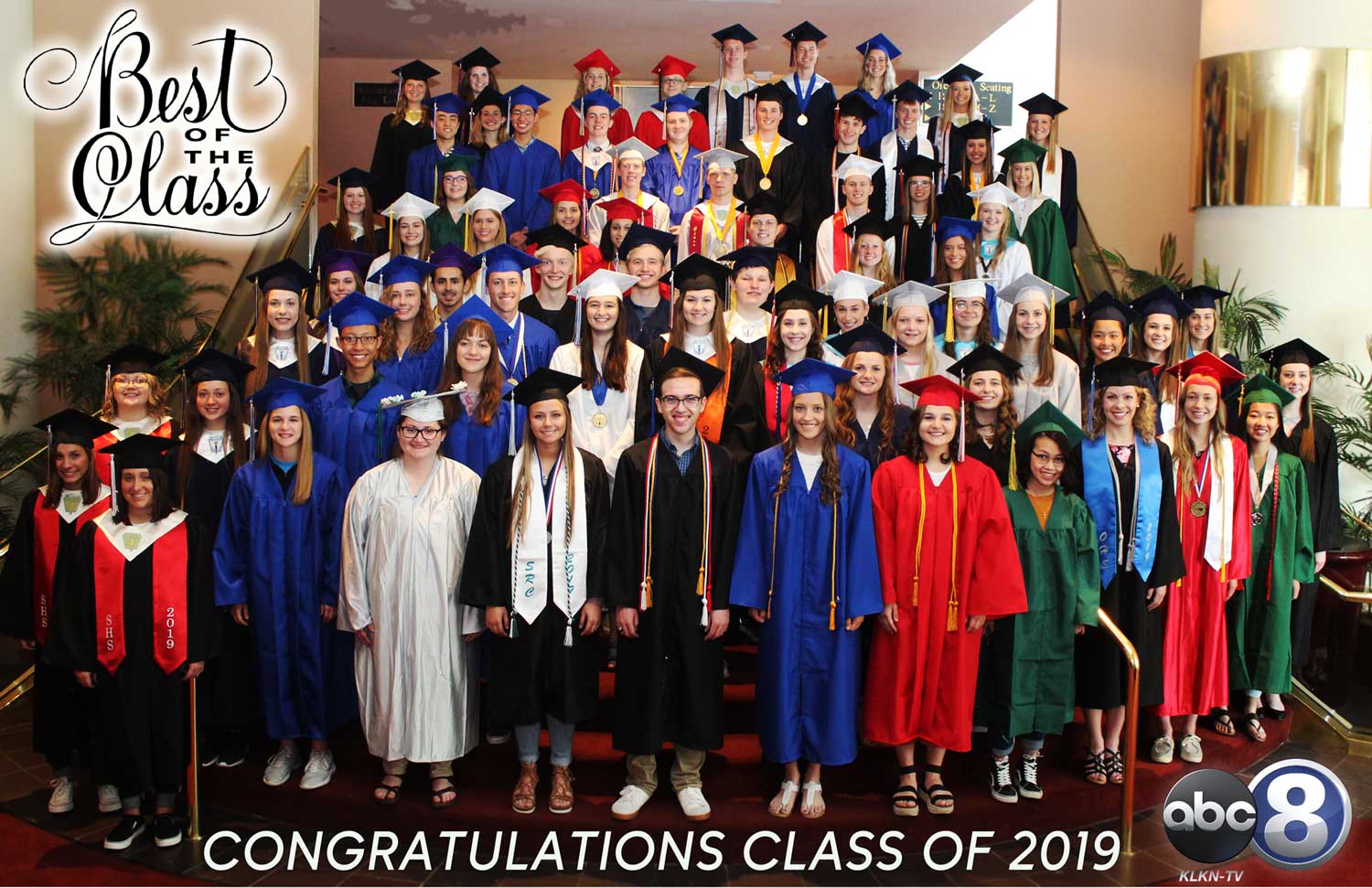 | | | |
| --- | --- | --- |
| Abigail  | Anderson  | Parkview Christian School  |
| Logan  | Anderson  | Freeman High School  |
| Ryan  | Arnold  | Diller-Odell High School  |
| Krystin  | Aschoff  | Hastings St. Cecilia  |
| Curtis  | Bailey  | Nebraska Christian High School  |
| Emily  | Binder  | Crete High School  |
| Dorian  | Bobbett  | Lincoln Northeast High School  |
| Michaela  | Boon  | Norris High School  |
| Kelsey  | Brady  | Malcolm High School |
| David  | Campbell  | College View Academy  |
| Wynn  | Cannon  | Osceola High School  |
| Matthew  | Case  | Parkview Christian School  |
| Alex  | Castilla  | Grand Island Senior High School |
| Heidi  | Cooper  | Grand Island Northwest  |
| Alix  | Cui  | Lincoln East High School  |
| Tatum  | Custer  | Lincoln Northeast High School  |
| Alexandra  | Danson  | Waverly High School  |
| Shelby  | Decker  | Southern High School  |
| Bethany  | Dowling  | Hampton High School  |
| Claire  | Eltze  | Crete High School  |
| Cheney  | Ensz  | Tri County High School  |
| Lexie  | Faber  | Aurora High School  |
| Madelyn  | Fitch  | Doniphan-Trumbell High School  |
| Ellissa  | Fredrickson  | Raymond Central High School  |
| Savannah  | Gerlach  | Tri County High School  |
| Brooklyn  | Gierhan  | Centennial High School  |
| Amanda  | Gyhra  | Raymond Central High School  |
| Chloe  | Hammond  | Lincoln Southwest High School  |
| Rachel  | Hartgeriuk | Milford High School  |
| Abby  | Hastings  | Pius X High School  |
| Camdyn | Hehnke  | Grand Island Senior High School |
| Calie  | Hiegel  | Heartland Lutheran High School  |
| Grant  | Hollinger  | Cross County High School  |
| Thi  | Huynh | Lincoln North Star  |
| Julie  | Jones  | Silver Lake High School  |
| Myla  | Kaufmann | College View Academy  |
| Emily  | Kraai  | Lincoln Christian High School  |
| Christian  | Lampe  | Lincoln North Star  |
| Trent  | Lockard  | Lincoln Christian High School  |
| Ella  | Moll | Lincoln Lutheran High School  |
| Jordan  | Martindale  | College View Academy  |
| Sydney  | Meyer  | Aurora High School  |
| Hannah  | Moravec  | Aquinas Catholic High School  |
| Benjamin  | Moritz  | Hastings St. Cecilia  |
| Margaret  | Nebel  | Pius X High School  |
| Jenna  | Nekl  | Shelby Rising City High School  |
| Kristie  | Nguyen  | Pius X High School  |
| Ashley  | Parde  | Freeman High School  |
| Maximillan  | Pearson  | Lincoln High School  |
| Tiffany  | Pearson  | Tri County High School  |
| Morgan  | Phillips  | Diller-Odell High School  |
| Miriya  | Pinkerman  | Lincoln Southeast High School  |
| Brittani  | Platt  | Cross County High School  |
| Kiaya  | Radke  | Elba High School  |
| Ian  | Raric-Heaton  | Hampton High School  |
| McKenna  | Reilly  | Grand Island Central Catholic  |
| Hannah  | Rethmeier  | Crete High School  |
| Jared  | Rosenlund  | Grand Island Northwest  |
| Ben  | Saathoff  | Malcolm High School |
| Samuel  | Schneider  | Waverly High School  |
| Johanna  | Schubert  | Lincoln High School  |
| Adrianna  | Smith  | Aurora High School  |
| Abigail  | Staehr  | Heartland Lutheran High School  |
| Zac | Streich  | Lincoln Lutheran High School  |
| Walter  | Turner  | Lincoln Southeast High School  |
| Lillyan  | Uhlmann  | Lincoln Northeast High School  |
| Jayme  | Ullman | Southern High School  |
| Micaiah  | Vrbka  | Aquinas Catholic High School  |
| Ryan  | Wall  | Seward High School  |
| Michael  | Walsh  | Norris High School  |
| Kristen  | Wetovick  | Fullerton High School  |
| William  | Wilton  | Centennial High School  |
| Hope  | Wise-Troxel  | Southern High School  |
| Evan  | Witulski  | Beatrice High School  |
| Madison  | Witulski  | Beatrice High School  |
| Reid  | Wortman  | Milford High School  |
| Jack  | Yelden  | Seward High School  |
| Arwen  | Zhang  | Nebraska Christian High School  |
| Isaac  | Zhang  | Lincoln East High School  |
| Lilly  | Zhou | Lincoln Southwest High School  |
| Rachel  | Ziems  | Lincoln Lutheran High School  |