News
Portions of south-central Nebraska experiencing flooding, officials say it's not over
Torrential rain on Monday significantly flooded portions of south-central Nebraska.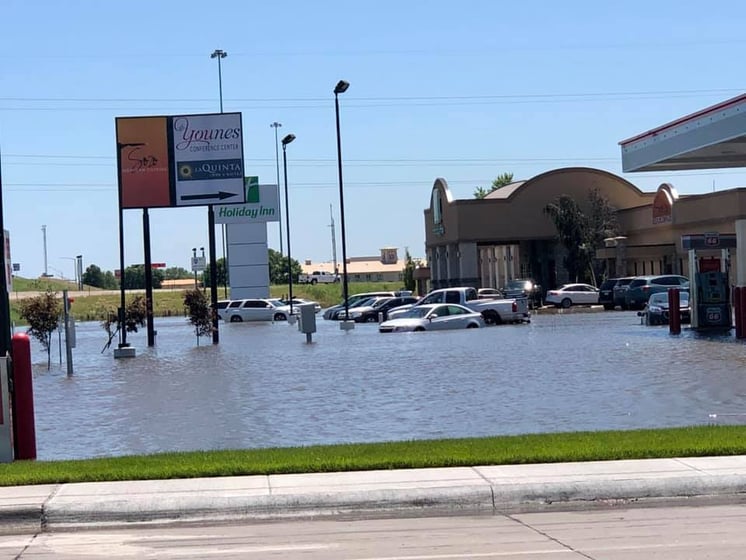 Heavy rains Monday flooded portions of south-central Nebraska around Kearney and know they are trying to clean up.
It didn't just impact Kearney residents but those traveling through.
"I'm from the Minneapolis area in Minnesota heading to Estes Park, Colorado on vacation," Louise Mattson said. "Within just a few minutes of the time of having a cup of coffee and some breakfast, it had come all the way up to the curb near the hotel."
The University of Nebraska Kearney opened it's dorms to those impacted, providing a place to stay, food to eat and items donated.
"We've done what we can here at UNK and part of the community to make them as comfortable as they can be, get them fed with our dining services here on campus, get them the personal items and clothing they need to get through the time they're here and try to get them on their way soon," UNK Spokesman, Todd Gottula said.
Officials have been working long hours, directing traffic and helping people commute throughout parts of town. People have been coming to shelters in Kearney from nearby town Gibbon, which is very difficult to get in too.
Those who have lived in the area for years say they have not seen the water this high before.
"I've been the Emergency Manager in Kearney for 16 years and this is the first time I've seen this much water in Kearney," Buffalo County Emergency Management Coordinator, Darin Lewis said.
Most of Kearney's roads were impassible Monday and most of Tuesday but now only a couple remain flooded including W Talmadge Road where evacuations happened at hotels nearby.
Currently, just under 300 people are staying at UNK. Mattson says the people and hospitality they are receiving is incredible.
Although the water is receding in Kearney, officials say it isn't done and the water will flow through towns downriver of Kearney which are Gibbon, Shelton and Wood River.