Straw fire blocks MoPac Trail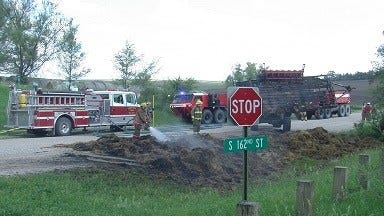 By: Jenn Hatcher
jhatcher@klkntv.com
A fire east of Lincoln blocked the MoPac Trail for a short time Thursday afternoon.
Waverly and Eagle-Alvo Rural Fire Departments were called to 162nd just off Highway 34.
A trailer full of straw ignited.
With help from local farmers, firefighters were able to knock the flames down quickly.
Ben Glantz with the Alvo/Eagle Fire Department told Channel 8, "We showed up to a fully engulfed trailer. It'd already been disconnected from the vehicle pulling it, which was good."
Firefighters say sparks from a blown tire on the trailer started the blaze.
Total loss is about $5,000.
No one was hurt.