Stroke camp fundraiser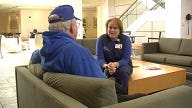 By: Jenn Hatcher
jhatcher@klkntv.com
A rocking event this Friday will raise funds for the annual
stroke camp, which is a weekend retreat for local stroke survivors.
Beth Malina, Stroke Coordinator at St. Elizabeth Regional
Medical Center says, "Stroke camp is amazing. It is one of the greatest weekends ever and
it is stroke survivors and their caregivers are able to do things that any of
us would do if we went camping or had a weekend away."
Stroke survivor, Robert Becker, has gone the last three
years.
Becker says, "Every year it's amazing what happens, we
have a gentleman that comes to the stroke camp with the stroke group. For 5 years he couldn't talk and now he's
talking."
Stroke survivors pay very little to go to the three day
camp.
Fundraiser's throughout the year cover the cost.
There's a fundraiser this Friday, March 28th at
the Auld Pavilion in Antelope
Park.
There will be live music from the band, The Haze.
The fun goes from 7–10 p.m.
More information can be found at http://www.nebraskastroke.org/stroke_camp