Students duct tape principal to wall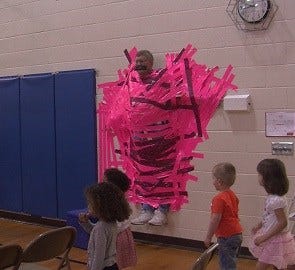 Posted By: Channel 8 Newsroom
8@klkntv.com
A local principal was put in a sticky situation Friday morning, but it was for a good cause.
When you lose a bet, you suffer the consequences. Trinity Lutheran students raised more than $19,000 in a fundraiser for their school, surpassing the $18,000 goal set by Principal Mervin Dehning. As a reward, he let students take turns duct taping him to a wall.
"I thought I was safe, I thought it was a good principal challenge, but the students and the parents went nuts, a good nuts," Dehning said.
Students raised the money by selling plants and flowers. Fundraising coordinators say the school gets to keep about $7,000, which will help purchase iPads for teachers to use in the classroom.
"It was really fun because we got to stick him up there, let him sit there for a while," 5th grader Zach Ringler said.