Students from Friday's bus accident return to school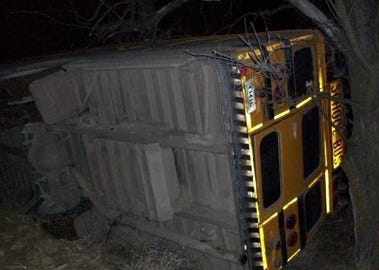 Posted By: KLKN Newsroom
8@klkntv.com
ADAMS, Neb. (AP) _ Officials say seven students aboard a school bus that rolled on a rural road in southeast Nebraska have returned to school.
The accident occurred Friday morning about six miles south-southeast of Adams. Freeman Public Schools Superintendent Randy Page says the students ranged from second grade to seventh grade. He says none was seriously hurt, so emergency crews weren't called and the students were sent home with their parents.
He says that in hindsight, the district should have had the children medically screened before releasing them.
Page says the bus was on a minimum maintenance rural road when it began sliding into a roadside ditch and rolling onto one of its sides.
On Saturday, Johnson County Deputy Randall Muhm told Channel 8 News the low maintenance road shouldn't have been used.
"I asked the bus driver why he chose to go down that particular road, and he said he was just trying to save some time," Deputy Muhm said.
Deputy Muhm says he should have been called sooner. He said he was not notified until an hour after the crash. Muhm says the bus driver could face charges of leaving the scene of an accident.