Students recognized for perfect scores on college entrance exams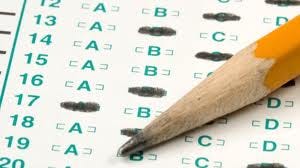 By: Sabrina Ahmed
SAhmed@klktv.com
When it comes to test taking, ever get a perfect score? What about on your ACTs or SATs?
They are tests just about anyone who wants to go to college has to take. Scoring a perfect is nearly impossible for just about everyone, but some local students were recognized today for achieving the nearly impossible.
The pressure is on when it comes to performing on college entrance exams, even more so now as the price of college is on the rise. But what most students consider a high score is no big deal when you consider a perfect score.
Fifteen Nebraska students got just that, and four were recognized today in Lincoln. Three got a 36 on their ACT tests and one got a perfect 2400 on the SAT.
"I want you to know we're very proud of you. This is an extraordinary day for you and again a very special day," the Governor said.
Tom Rasmussen, of Lincoln East, is one of the students who had a perfect score on the ACT. he said this is a great experience but it's still just a test.
"I try not to let it define me because, even though it is a very unique thing, its something—I'd say I'm more proud of the work that goes into my school work," he said.
While he won't let the test go to his head, that doesn't mean it won't open some doors. He's headed to New York City to take on Columbia University.
"I've always been fascinated by just really cool machines and really cool things like robots and I really want to become a part of something that's really amazing," he said.
Other students there who had perfect scores:
Preston Fegley of Grand Island High School
Maranda Frey of Lincoln Southwest
Andrew Peterson of Lincoln Southeast
Nathaniel Wei of Lincoln East
Some of them are going on to study topics like engineering and some are making their way to Ivy League schools.
The governor also went to Omaha to give the other 11 top scoring students their recognition. The students who got these scores are among a tenth of a percent of the test takers.