Suh will be enshrined in Nebraska Hall Of Fame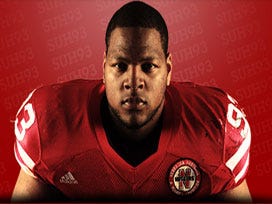 Standout defensive tackle Ndamukong Suh and seven other Huskers will be added to the Nebraska Football Hall of Fame this year. Suh won the Outland, Lombardi, Nagurski and Bednarik awards and was a Heisman finalist for his play last season. Because of his national recognition, Suh didn't have to wait the minimum 10 years to be considered for selection.
Joining him will be former Huskers Dan Alexander, Steve Lindquist, Todd Millikan, Ed Periard, Bob Pickens, Carlos Polk and Chris Spachman. From smaller Nebraska colleges, new Hall of Fame members will be Mike Sallier of Doane College and Noland Urban of Nebraska Wesleyan. All 10 will be inducted on Sept. 3 and honored at Memorial Stadium when Nebraska plays Western Kentucky.