Vigil honoring Sydney Loofe held Saturday night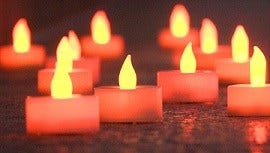 A candle light vigil for Sydney Loofe was held at the Sunken Gardens in Lincoln.
Loofe, the Lincoln woman who was missing for nearly three weeks before the FBI and state authorities found her body in rural clay county near clay center, is currently the focus of an ongoing police investigation.
The vigil was all about friends and family coming out to support and honor her memory.

"I just want to say that she was one of the most kind people that I've ever met. She'd always be there for you if you needed her. And we helped her through everything and she helped us through everything anytime we needed her," said Mikala Miller, a good friend of Sydney.
With so many people venturing out into the cold, it was obvious that Sydney made a lasting impact on a great deal of people in the Lincoln community and beyond.
Sydney's former boss, Donald Maxson, wishes she could have been at the vigil tonight to see how many people care for her.
"I know that if she was here… I wish that when she was here she could have seen this… seen how many people… how many lives she's touched and how she's affected other people… how many other people loved her, and still love her," said Maxson.
People wore the color green, which signifies a missing person.
They also wore bows with Sydney's name on them, lit candles and sang along to some of her favorite songs.
"She had a heart of gold, she would do anything for anyone in a heartbeat. I just want to make sure that she gets the justice she deserves. It just breaks all of our hearts that this is our reality right now. I just want her to know that we all love her," said Addison Mills, a good friend of Sydney's.