Synthetic LSD found in Nebraska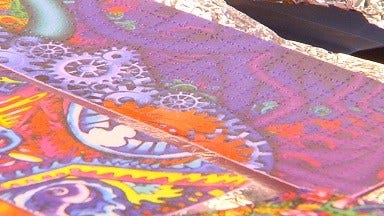 Posted By: Jenn Hatcher
jhatcher@klkntv.com
It's a drug that in person appears harmless, but 21 people across the country have died from synthetic LSD. "One single hit, which is quarter–inch by a quarter–inch piece of paper, can cause death," explains Mike Saunders with the Drug Enforcement Administration.
The drug, also called, n–bomb or smile, mimics the effects of LSD, causing hallucinations. It comes in different forms, including liquid, powder and the most popular, blotter paper. "N–bomb is on sheets of paper that are very colorful. They'll have cartoon characters. They'll have clown pictures or clown faces," says Sanders.
The drug made its first appearance in Omaha about six months ago. Just last week, two men were arrested for selling 45,000 dollars worth out of their Omaha apartment. "It's a threat that we're focusing on and working with law enforcement counterparts, both those domestically and internationally, in combating this problem," explains Sanders.
Lincoln police say they have yet to see the drug in the capital city and are watching the situation in Omaha closely.