Syrian refugees in the U.S. controversy continues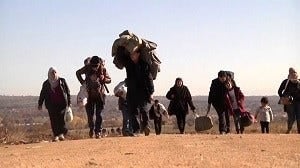 Posted by: Marlenia Thornton
mthornton@klkntv.com
The controversy around allowing Syrian refugees into the U.S. continues.
Governor Pete Ricketts and 26 other governors sent a letter to President Obama today.
They're asking him to review the refugee screening process.
The governors say there are gaps in the system and are fearful that our safety is at risk.
"The events in Paris really highlight that we have to make sure our citizens at home are secure. We certainly don't want to be reactive and have an incident first. We want to be proactive," Nebraska Governor Pete Ricketts said.
Social workers say the process of becoming a U.S. refugee isn't easy.
Some have to travel more than 30 miles to get to a refugee camp, which can take months on foot.
Once there, they could go through years of screening before coming to the U.S.
After they arrive in the country, they have 90 days to resettle.
That's where agencies like the family Lutheran services of Nebraska step in.
"We try to make that transition as easy as possible, but it can definitely be overwhelming for our families. They have to acclimate very quickly," International Center of the Heartland Program Manager Kara Tofte said.
Tofte said refugees need a lot of support especially from the outside community.
That's what at least 35 congregations from United Methodist churches across Kansas and Nebraska plan to do.
Bishop Scott Jones said the church is ready to welcome Syrian refugee families once they are allowed in the country.
They say they're just trying to do what they believe is right.
"We're trying let our elected know we think resettling refugees in America is the best thing Americans can do in this fight against radical Islam," United Methodist Church Bishop Scott Jones said.
Congress is looking at a bill to increase refugee screenings.
The president planned he would veto it.