TADA's Tidings and Tunes: A Holiday Cabaret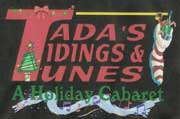 A holiday treat is coming to the Loft at the Mill! This show is the perfect escape from the hustle and bustle of December and is sure to leave you with a smile on your face and a song in your heart.
The Loft at the Mill will be transformed into a cozy showroom to celebrate music and merriment. Performances are December 16-18 at 7:30pm and on December 20 at 2:00pm.
The Loft At The Mill is located above The Mill, on 8th & P Streets
All Tickets Only $15.00 Reservations recommended. Seating by General Admission.
For Reservations, Call 402-438-TADA (8232) Or you can fill out our simple form online form to request a reservation. Click here to go to the TADA Productions website For any other assistance or questions about ticket reservations, please call or e-mail us at tickets@tadaproduction.info