TeamMates honors graduating seniors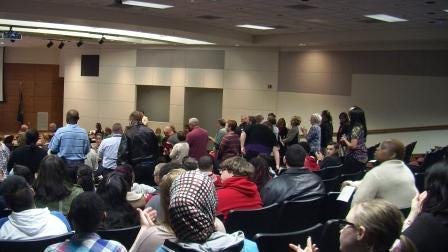 By: Lauren Fabrizi
lfabrizi@klkntv.com
"Growing up without my parents, and then growing up without my grandma and not having my grandpa be there for me was really hard for me."
All Je'Kerra Hopper wanted growing up was a family, like most of her peers had. At a young age, she learned how to rely on only herself. But all that changed when she met Jennifer Davidson.
"It was a real big blessing for her to step in and help me, and keep me going and just give me hope," Je'Kerra said.
Since her junior year of high school, Je'Kerra has been a part of the TeamMates Mentoring Program. Now, she and 42 other seniors are headed to their next step in life as they graduate from the program.
"Sheer joy," her mentor, Jennifer, said. "We've been together through thick and thin, good days, bad days. But to see it all come together."
Je'Kerra and Jennifer's is just one of many stories. And many times, it's stories like Karen Caballero and Trena Reed's where it's not just the student who has something to take away.
"I actually learned a lot from my mentee," Trena said. "She actually reminded me there's so much potential in all of us."
"I'm very thankful that I met someone like Trena," Karen said. "In many ways we're very alike."
Since the program was founded by Tom and Nancy Osborne back in 1991, it has grown tremendously. There's now nearly 7,000 student–mentor teams in Nebraska and neighboring states, with 1,100 in Lincoln.
"To have a caring adult in your life, somebody who's there for you and supports you, is tremendously important in the lives of these kids," Dr. Tom Osborne said.
A number of seniors were awarded scholarships from generous businesses, individuals and families throughout the city.