Teen runs to support Dream Act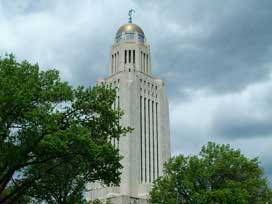 It was a 200 mile long journey for one Nebraska teen who is literally taking steps towards change.
17–year–old Dan Dominguez is trying to spread the word about the Dream Act, which stands for Development, Relief and Education for Alien Minors, so that other kids can have the same opportunities he's had.
Dan's grueling five day journey ended at the state capitol where he hopes the real change will begin. He says, "everybody deserves a chance and all of these kids that you see here, want to go to college and want to give their kids a better life.
Dan is a U.S. citizen and wants other kids to have the same opportunities he's had. He feels the Dream Act does just that. To qualify for the current Dream Act legislation, students can't have a criminal record, have to have lived in the U.S. for at least six years and must graduate from high school and college or serve in the military.
Dan's wrestling coach, Bryan Corkle, helped him along the way and says he's knows some kids slip through the cracks. "It's a tragedy. Every year that goes by, we lose students because they just don't have the path to become productive citizens."
Now they're hoping other kids will dream big with the help of the Dream Act. Coach Corkle days, "I'm his coach and I'm his teacher, so I'm supposed to be the one teaching him, but in reality, if I've taught him half as much as he's taught me. The fact that actions speak louder than words, he shows that on the wrestling matt, he showed it in what he did today."
Corkle is also an advisor for Nebraska students for the Dream Act. He says the last time this issue came up, Senator Nelson voted in favor of it. He says they've been in contact with Senator Johanns and will continue until this comes up for a vote.