Teen still recovering months after accident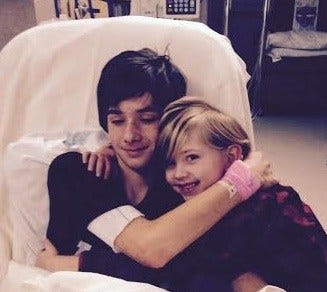 Posted By: Camila Orti
Nearly two months after getting hit by a car and pinned against a McDonald's, a 15-year-old is still recovering.
"I have four plates and 20-some screws in the pelvic area," Lincoln High freshman Zacary Clubb said.
The teen is still getting used to his new scars. Two months ago, he was doing kick flips in the skate park, but on December 9, a hit-and-run forced him to trade in his skateboard for a wheelchair.
Zac was waiting for his ride outside of the McDonald's near Lincoln High when a car pulling into a spot didn't stop.
"I tried to move out of the way as best I could so I turned and tried to stand up and it caused the car to hit right against my side," Zacary said.
The car pinned him against the building, fracturing his pelvis and rupturing several internal organs. Police say the girls in the car, ages 16 and 17, drove away. They were arrested shortly after it happened.
Zac says he's doing much better now, undergoing physical therapy three times per week to build up his leg strength. Meanwhile, mom Heather Clubb says the medical bills just keep on coming.
"It's close to $200,000, and that hasn't even included the physical therapy he'll have for months, the doctors' appointments," Clubb said.
Luckily, a local church has reached out to the family. St. Paul United Methodist Church is hosting a fundraiser to help the family with medical expenses on February 22 from 4-7 p.m. The church is located at 1144 M Street. Organizers say there will be a spaghetti feed and a silent auction, and all proceeds will go to the family.
"Everybody has really supported us and we're really lucky to have that," Clubb said.
The family has also set up a GoFundMe page.
The driver involved in the hit-and-run was charged with leaving the scene of an accident, her passenger was charged with aiding and abetting.