Tenants forced out after apartment building is condemned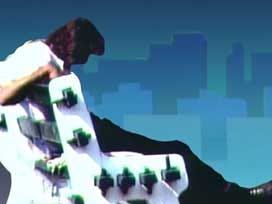 By: Megan Palera
mpalera@klkntv.com
Most of the tenants at the French Quarter apartments are already struggling financially and now they're left without any support by the owners of the building. They were just simply told to find another place to stay.
Door after door, red tag after red tag. An entire building at the French Quarter Apartments is condemned by the city.
Kevin Posival has only lived here since January. His apartment sits right below where the second floor walkway collapsed when construction crews were trying to shore it up Monday morning.
"I was laying in bed and I hear a crash and a bunch of glass shatter and so I run out of my room and there's a board through my window," said Posival.
He says the apartment complex, owned by MBA Realty did come over to help sort things out. That was until city crews arrived around 6:30 Monday evening, officially condemning the building.
Then Posival says he took off and never said a word to them. "Basically, their only concern was back rent. They didn't ask, are you ok, can we get you anything, you know can we do something for you to help you get out of your apartment. They weren't worried about that. They were worried about their money."
With no where else to turn, the group huddles together to try and help each other. Some have found a cheap hotel to say for the night. Other say they can't afford it, like David Atkinson who just spent all his savings, $900, to move in two weeks ago.
"I said, what am I supposed to do? I just spent all this money and I have a kid due any day. What am I supposed to do? And he said, well it's a civil suit," said David Atkinson.
With no word on when, or it, they'll ever be able to return home, the 100 or so residents pack up the kids and take what they can for the night.
Channel 8 Eyewitness News attempted to contact MBA Realty Monday night, but no one returned the phone call. As far as the residents know, the only part that needs to be fixed is the walkways and according to the city's letter, that needs to happen by June 9th.