Texas woman thanks Lincoln doctors for saving her life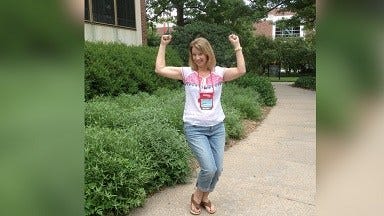 By: Jenn Hatcher
jhatcher@klkntv.com
There was an emotional meeting Thursday for a Texas woman, who almost died in Lincoln; she met the people who helped save her life.
"Today I feel like myself," says Annie Dragoo, who doesn't remember anything from a year ago.
The 43–year–old was visiting the capitol city for the annual Thespian Festival on the University of Nebraska-Lincoln campus.
While she was taking her daughters for a walk, she collapsed.
Dragoo had gone into cardiac arrest.
Her husband, six blocks away, ran to the scene, it was not good.
Billy Dragoo says, "The officer said are you the husband and I said 'yes, is she alive?' He turned his back and said sir come with me, those aren't the words you want to hear."
Annie was transported to the Bryan East Campus.
"It was pretty miraculous that she got to the hospital at all," says Dr. Ellen Miller.
Miller says the contents of Annie's stomach got into her lungs, creating both a heart and lung problem.
The only option, the ECMO (extracorporeal membrane oxygenation) machine that puts oxygen in the blood.
Dragoo was on the machine for 5 days.
Miller says in her 28 years, she's only seen the machine save two lives, one of those, Annie's.
Today Annie must monitor her heart but for the most part she's living the same life as before.
This week, the Dragoo's are visiting Lincoln again and spending time thanking everyone.
On Tuesday, Annie went back to the spot she collapsed, which she says is a victory.
"Coming back makes me feel good, it's been a year, I'm here, and I feel great," says Annie.
The family presented the entire medical crew with custom wine.