Thanksgiving Tips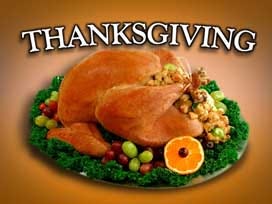 Tips on How to Stuff the Turkey, Not the Drain
LINCOLN, Neb. (Nov. 12, 2008) – As families clean up after their Thanksgiving feast, remember not to stuff the drain with leftovers. Instead of throwing scraps down the kitchen sink, re-think.


"Sometimes people don't realize how much food ends up in the garbage disposal, especially if they have a house full of guests," said Michael Watson of the Mr. Rooter® of Lincoln franchise. "The best way to keep your kitchen sink from overflowing is to educate your family and friends on what not to put down the drain."

When turkey bones and skin, potato and onion peels and celery stalks find their way down the garbage disposal, they become one of the leading causes of clogged pipes. This keeps plumbers busy unclogging stuffing-stuffed drains over the holiday, including Thanksgiving Day as well as the day after.
Instead of dumping everything down the drain, simply throw Thanksgiving scraps in the trash or compost pile. Avoid pouring grease down the drain as well. Cooks should wipe greasy pans and plates with a paper towel before washing them.
The local Mr. Rooter shop has five tips on how to properly use a garbage disposal:
1. Turn on the water, then turn on the disposal and feed the waste gradually.
2. Keep the water on while using the disposal.
3. Leave the water on for a short period after the disposal is turned off.
4. Don't overload the garbage disposal.
5. Turn the disposal power off and press the re-set button (if available) under the sink when the disposal stops abruptly while in use.
Cooks should not operate the dishwasher if they suspect a problem because it discharges into the disposal. If the kitchen sink is backing up, call a licensed, qualified plumber.
About Mr. Rooter®:
Established in 1970, Mr. Rooter is the largest all-franchised, full-service plumbing and drain cleaning company in the world with approximately 300 franchises worldwide. Recognized by Entrepreneur magazine among its "Franchise 500" and Franchise Times Top 200, Mr. Rooter franchisees provide services to both residential and commercial customers. Mr. Rooter began franchising in 1974 and is a subsidiary of The Dwyer Group, Inc. For more information or to find the location nearest you, please visit our Web site at www.mrrooter.com.